Washington Sniper's Ex-Wife Reveals Years Of Terror, 'He Told Me He Was Going To Kill Me'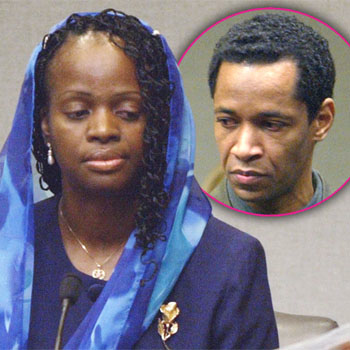 Article continues below advertisement
Now following the 10th anniversary of the slayings, Mildred has opened up to People magazine, telling them that she was the person the serial killer was really after.
"Two years earlier he threatened to kill me when I asked for a divorce. He took my three kids and hid them in the outskirts of Antigua… My son slept on the ground where he was covered in red ants," she said.
The children were finally found in August 2001, when John applied for food stamps and cash, which prompted a red flag with social workers. Once they were reunited with their mother, he was released when the judge dismissed the case, causing Mildred to continually live in fear.
"I didn't know where John was or what he was doing, but I looked for him on rooftops and nearby levees. He told me he was going to kill me and I knew he would," she told People.
When the sniper shootings began, she did not realize her ex-husband was at the other end of the trigger, despite always believing "that if he killed me, it would be a shot to the head.
"I was so afraid, I would call my friends before I went into the metro and when I came out. I knew he could find me, kill me, throw me out on the tracks and no one would know," she revealed.
Article continues below advertisement
On one occasion, a mysterious car sat outside her house and the young man spying on her from behind a newspaper turned out to be Malvo, her nemesis' teenage accomplice.
Mildred only learned who was behind the killings when the FBI turned up on her doorstep to reveal they were going to name her ex as the suspect, and asked if she thought he could do anything like that. She then had to break the news to her heart-broken children, who broke down in tears screaming, "Daddy? He's doing that?"
On the day of their dad's subsequent execution on November 10, 2009, the children waited for their dad to call, revealed their mother, but he never did. "We watched on television until a man came out and said John expired. My children lost it.
"My family has been through a lot, but we've survived. My son John, 22, is now training to try out for a professional football team. Salena, 20 is in college studying vocal and opera. My youngest, Taalibah, 19, is also studying opera."
Article continues below advertisement
Mildred reveals that despite her own torment, many people still blame her for John's cold-blooded actions because she was married to him.
"I was afraid of him like everybody else," she explained. "I only took the restraining order out of my wallet after his funeral."
RELATED STORIES:
Nanny Accused Of Murdering Children Awakens, Asks About Family
Parents Of Children Brutally Murdered By Nanny Say They Are 'Heartbroken' Over The Killings