Terror Suspect Plotting To Blow Up Federal Reserve Arrested In NYC, Wanted To 'Run The Whole World'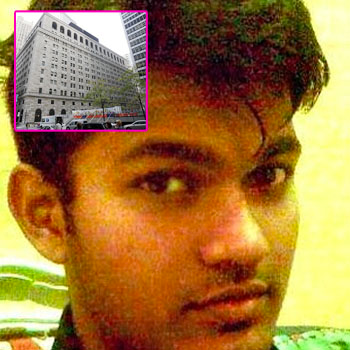 By Debbie Emery - RadarOnline.com Reporter
A 21-year-old Bangladeshi man has been arrested in a suspected terror plot to blow up the Federal Reserve Bank Of New York with a massive 10,000 pound bomb, federal officials have confirmed.
Quazi Mohammad Rezwanul Ahsan Nafis, of Queens, New York, has been named as the potential terrorist after his plan was foiled by an undercover FBI agent who ensured that the explosives he parked in a van outside of the Liberty Street building were fake, reported the New York Post.
Article continues below advertisement
When he met the agent in Central Park, the deranged young man revealed the depth of his distorted ambition. "I don't want something that's like small. I just want something big," Nafis said in a secretly recorded threat.
"Something very big. Very very very very big, that will shake the whole country, that will make America, not one step ahead, change of policy, and make one step ahead, for the Muslims ... that will make us one step closer to run the whole world."
Nafis landed on U.S. soil through a student visa with the intention of carrying out the deadly attack, and claimed to have the backing of al-Qaeda overseas. When the amateur terrorist tried to recruit comrades to help, he unwittingly enlisted the help of the undercover FBI agent in July, according to documents.
At first he aspired to bomb the New York Stock Exchange or a Baltimore military base, before deciding on the Federal Reserve, because he wanted to "destroy America" by targeting its economy.
Article continues below advertisement
"... All I had in mind are how to destroy America ... I came up to this conclusion that targeting America's economy is most efficient way to draw the path of obliteration of America," and justified the deaths of innocent women and children as necessary because of his dedication to "our beloved Sheikh Osama bin Laden."
After the agent accomplice and the wannabe terrorist parked the van, they went to the Millennium Hilton hotel near the World Trade Center where Nafis recorded a video statement to go along with the attack. "We will not stop until we attain victory or martyrdom," he told the camera.
He then tried, several times unsuccessfully, to detonate the device packed with inert explosives, and was quickly arrested.
Nafis now faces charges of attempting to use a weapon of mass destruction and attempting to provide material support to al-Qaeda at his arraignment Wednesday afternoon in Brooklyn Federal court.
Paul J. Browne, deputy commissioner of the New York City Police Department, released a statement following the attempted attack, where he credited the diligence of law enforcement.
Article continues below advertisement
"After 11 years without a successful attack, it's understanding if the public becomes complacent. But that's a luxury law enforcement can't afford," he said in a statement.
"Vigilance is our watchword now and into the foreseeable future. That's why we have over 1,000 police officers assigned to counter-terrorism duties every day, and why we built the Domain Awareness System. I want to commend the NYPD detectives and FBI agents of the Joint Terrorist Task Force for the work they did in the case and in other ways every day to help New York City safe from terrorists."