Joe Giudice's Mistress A 'Sexy' 25-Year-Old Co-Ed, Sources Say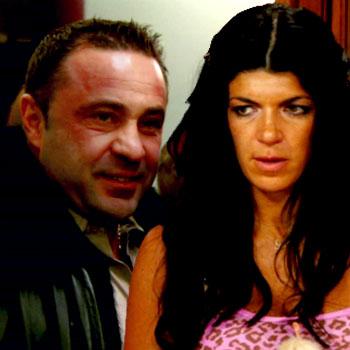 Joe Giudice raised cheating suspicions during an episode of The Real Housewives of New Jersey that aired in August -- calling wife Teresa a "b*tch" and a "c***" on a mystery phone call -- and now the National Enquirer has brand new details on the identity of Joe's other woman.
The East Hanover, New Jersey woman is a 25-year-old "sexy" co-ed at Caldwell College "with curves galore," her friend told the National Enquirer, adding she "has loads of energy.
Article continues below advertisement
"For a short, fat guy, Joe managed to get a real beauty," the friend said of Joe's mistress, who is not named in the story for privacy reasons. (Her parents confirmed to the National Enquirer that their daughter and Joe "know each other through work."
The pal continued, "Chances are good that if Joe was just a regular guy who didn't appear on a hit TV show, she would never have looked his way. She probably likes the fame he has, thanks to his wife."
Insiders have spotted Joe and his mistress at the Iron Bar in Morristown, New Jersey.
"Their behavior was highly inappropriate, especially for a married man being out late at night with such a young woman," a bartender at the establishment, who saw them there over the summer, told the National Enquirer. "They came in as part of a small group, but they only had eyes for each other and got very touchy-feely.
Article continues below advertisement
"It appeared to be a date with their friends running interference."
As we previously reported, in the August episode, Joe, 42, took a call he claimed to be work-related, but answered saying, "Hi baby."
When Teresa, 40, investigated what he was doing, Joe told the caller, "Here comes my bitch wife … she's such a c***." (He later told Teresa the caller was a co-worker who didn't speak English.)
Part three of The Real Housewives of New Jersey's reunion airs Sundays on Bravo at 10/9c.