Ramona Singer Vehemently Denies Boozing Problem: 'I Drink Just As Much As LuAnn de Lesseps!'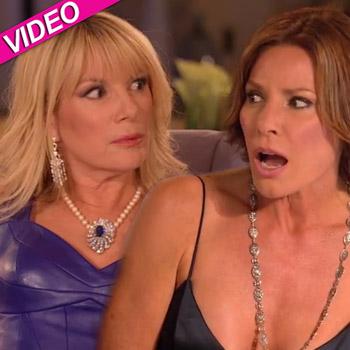 The Real Housewives of New York City's reunion episode Monday saw two of The Big Apple beauties deny some bold accusations levied at them this season, and we've got the details for you on RadarOnline.com.
The crescendo of the night came when Bravo mastermind Andy Cohen questioned Ramona Singer's castmates about her drinking habit, as many of her alcohol-fueled antics were caught by cameras on the reality hit this season.
Article continues below advertisement
The accused housewife lit him up, shrieking, "Why do you keep doing this with me? Because I drink just as much as" Countess LuAnn de Lesseps!
"If you wanna pick on me, pick on something real!" Ramona said. "Find something real Andy -- I don't like it Andy, I don't like it."
LuAnn, in an ill-conceived defense of her pal, said that Ramona can hold her liquor as well as anyone she knows.
Ramona's yipping took its' toll on Andy, who dropped his normally even-keeled demeanor, eventually snapping at the disheveled housewife: "I gotta tell you something: Your lipstick is so f***ed up and it's on your teeth! You look like a mental patient."
In another revelation -- LuAnn, whose boyfriend Jacques Azoulay has appeared on past episodes -- came clean about her St. Barts sojourn with a sexy Johnny Depp clone named Tomas, admitting she fibbed in saying they hadn't spent time together.
"I messed up and I told a lie and I'm sorry because it made me suffer and it make Jacques suffer," LuAnn said, "and it was really hard for us to get over."
LuAnn emphasized she did not go to bed with the handsome stranger during the eventful trip.
Article continues below advertisement
As we previously reported, Sonja Morgan told RadarOnline.com exclusively "filming of the reunion took nine hours!
"There was heightened security on set this year. Bravo was extremely strict about who could and couldn't be present for filming. We were allowed only one friend or family member each to come and support us," she told us exclusively. "There was buzz that somebody was kicked out of the green room for taking video of the live feed, which is absolutely not allowed.