Exclusive
Ramona Singer Slams Aviva Drescher: 'She Has A Lot Of Anger'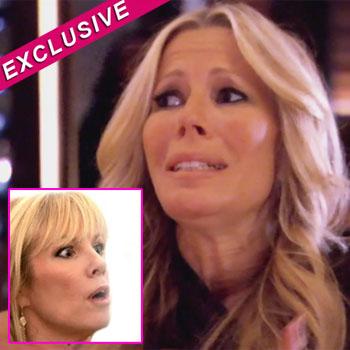 Article continues below advertisement
"I was looking back at that episode, and it shows you how I have evolved as a person, the Ramona of five years ago would have handled the situation much differently. I realize that she has a lot of anger in her, I don't think she's a happy woman and she misplaces it on me," Ramona tells RadarOnline.com.
Ramona also says that she feels like everything Aviva has accused her of is a lie.
"She basically bullied me with all her comments. That I cheated on my husband, that I'm not a great mother, basically it's just her own unhappiness and anger was just spewing out. Whatever I do in my life it's my business I'm an adult she's not my mother," she says.
Ramona's close friendship with Sonja Morgan is another sticking point with Aviva she believes.
"Sonja and I are always side by side, we have a genuine relationship," Ramona says. "The camera doesn't lie. Aviva is also very jealous of my relationship with Sonja, the closeness the warmth, a lot of her anger came from that because I don't think she has that with anyone."
Ramona defended her friendship with Sonja against Aviva.
Article continues below advertisement
"She's making some digs that I can't do anything without Sonja. Good girlfriends like doing things…. You like sharing a room. you like getting ready in the bathroom together, it's what girls do; we go on vacation together. She's like a sister and that will continue. A true friend you can get angry at each other but you're not going to start name calling. You can get upset with each other but you're not going to say hurtful things. That's where I think Aviva crossed the line. She really basically was like a bully."