Exclusive
Behind The Scenes: Sonja Morgan Dishes On The Unreal Reunion Drama That Didn't Air!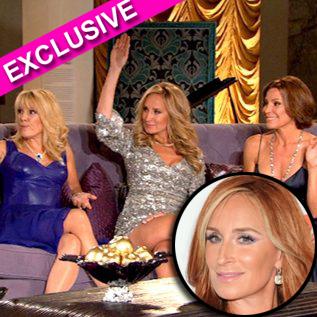 Fans of The Real Housewives of New York were delighted to see their favorite cast members together again Monday night in part 2 of the reunion special, but behind the scenes the action was just as juicy, and RadarOnline.com has the exclusive details.
"Filming of the reunion took nine hours! There was heightened security on set this year. Bravo was extremely strict about who could and couldn't be present for filming. We were allowed only one friend or family member each to come and support us," Sonja Morgan told RadarOnline.com.
Article continues below advertisement
"There was buzz that somebody was kicked out of the green room for taking video of the live feed, which is absolutely not allowed. Someone was asked to leave… it wasn't anyone on my team!"
RadarOnline.com has learned that it was a friend of Aviva Drescher who was escorted off the set after getting caught recording some of the TV special.
Sonja had some words of wisdom for Aviva, who she quipped lacked self-confidence. Her wise words even earned praise from reunion host Andy Cohen!
"At one point I turned to her and said, Aviva, you are so hard on yourself and so hard on others. When you wake up every day I wish you would just say 'I love myself.' It would really help you. And Andy just told me I should be a life coach!" Sonja said.
Meanwhile, Heather Thomson found herself caught in a web of deceit, even admitting that she wasn't told by Harry Dubin that he had a fling with Sonja and LuAnn De Lesseps.
Article continues below advertisement
"We caught Heather in a lie. All season she has been saying Aviva's ex-husband Harry Dubin told her he had a fling with me and with LuAnn De Lesseps. Well, Harry never said that! Heather admitted she overheard Harry speaking to one of his male friends about it… she eavesdropped on a conversation and then acted like he told her directly. It doesn't make the cut, but she admitted she lied."
While Sonja's disagreement with Heather over the branding of her toaster was also cut from the final edit.
"I said I was sorry I made Heather feel I was ungrateful when I just felt unheard. Her ending statement is she felt bad she couldn't give me the branding I wanted. It was sweet, but doesn't make the Bravo cut," Sonya confessed.
"Our friendship means more to me at the end of the day. I know the viewers like the dramatic parts but I'm happy Heather and I came out whole at the end of the process. I really was sorry she felt I was ungrateful. I never would want her to feel that way. I was angry she wasn't hearing my opinion as if I didn't know my brand. Two strong women will debate heatedly!"