New Jersey Housewife Jacqueline Laurita Slams Rumors She Was A Las Vegas Stripper!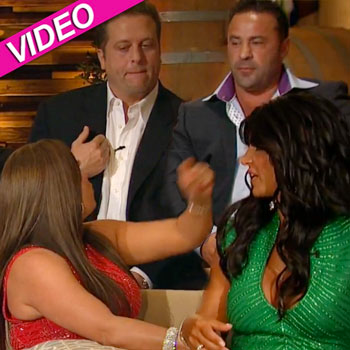 By Debbie Emery - RadarOnline.com Reporter
Tempers reached boiling point during The Real Housewives of New Jersey reunion when the cast got into a heated he-said-she-said argument about who started the rumor that Jacqueline Laurita was once a stripper in Las Vegas, and RadarOnline.com has the explosive sneak peek.
The claws come out in The Real Housewives of New Jersey Reunion, Part 3 as Jacqueline tried to clear up the speculation that she had an illicit X-rated past profession.
Article continues below advertisement
"Joe claims that you told him that you met me in Las Vegas as a stripper," an outraged Jacqueline asked her husband, Chris Laurita, during the mass stand-off.
"Where did you tell him that you met me and what was I doing?"
"I met her in Chicago at a trade show," her brow-beaten husband told the group, as host Andy Cohen tried explained the confusion, "The accusation was that Chris met Jacqueline when she was stripping in Las Vegas."
Joe Giudice attempted to dig his way out of the mess by explaining: "I never said she was a stripper. He Chris never came out and said stripper. I think he said he was engaged and he was fooling around with Jackie and he got caught or something like that," he said, which just added fuel to the already flaming fire! "Am I right? Maybe I'm wrong."
Clearly losing his patience, Chris repeated, "I met Jacqueline for the millionth time…and I never said to you that I met her in Vegas, and I certainly never said that she was a stripper."
MORE ON:
Jacqueline Laurita
Article continues below advertisement