Not EVERYONE Hates Her! Teresa Giudice Turns To Twitter To Prove Her Supporters' Love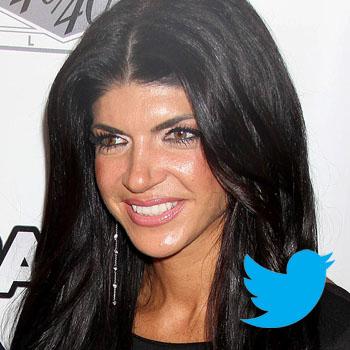 Article continues below advertisement
One user named @jeleanne3 wrote "you know what...its effing HARD being teamed up on by 4 women. I give you credit Teresa you are strong," while another user, @DebbieCaplanPR, wrote that "After watching these Women conspire against Teresa 2yrs, I'd be out of my mind as well. Shame on them."
Teresa must have loved the feedback she got about rival castmates Caroline Manzo and Melissa Gorga, as her tweeting public was happy to sling mud by the gallon at the two ladies.
User @collins328 Caroline, wrote "let me answer for Teresa: You have bullied, backstabbed, and betrayed T all season n u turned Jac against her," while @RealityTVBliss asked, "Why is Caroline giving family advice to Teresa about 15 min of fame & family while she is on the outs with her family?"
Teresa says she got a helping hand from comic Jay Mohr – although the tweets were not on his page early Wednesday - in claiming he exposed her sister-in-law's behind-the-scenes machinations in writing, "For the record @melissagorga tonight told me to blog negative things about @Teresa_Giudice books and businesses. #fact #sad."
Article continues below advertisement
Others got even nastier in their responses, presumably to Teresa's delight.
User @jenbradleylopez wrote: "Melissa doesnt want her kids to go to school with Teresa's?Ur the shoplifting,lesbian,ex stripper with a warrant,wat r u worried about?" while @realilanaangel wrote, "Strippers are people too! So are wh***s! Bless them all."
The only housewife who virtually escaped Teresa's recycled wrath was Jacqueline Laurita, as Teresa wrote, "I just can't put anything here. She has enough of a Twitter problem, and enough problems as it is. God Bless."