Exclusive
Teresa Giudice Badmouthing Brother Joe & His Wife Melissa Gorga To Her Parents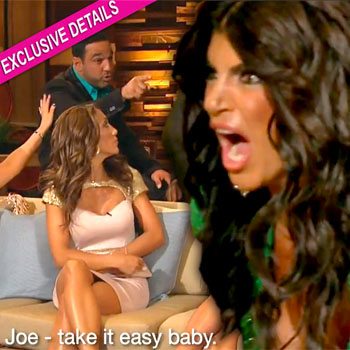 Article continues below advertisement
"Mommy and daddy. Mommy and daddy, that's all we have," Teresa pleads to her brother. "You're breaking mommy and daddy's heart."
"Don't start me with that sh*t!" Joe Gorga screams at Teresa. "That's the worst thing you f**king did to me. You understand? You took my parents away from me. My kids don't even have grandparents because of you!"
Teresa then asks her husband Joe to put his two cents in and he and Gorga get into an epic screaming match laced with explosive expletives.
"Teresa claims she never talks about her brother or Melissa to her parents, but that's a flat out lie," a source close to the family exclusively tells RadarOnline.com.
"Teresa has put Melissa down and has said horrible things to turn their parents against her, and yes it has worked."
According to the insider, Joe is right when he says his children hardly even know their grandparents, and it's because of the divide Teresa has created.
Article continues below advertisement
"Teresa's parents rarely see Joe's kids. Their parents have been brainwashed against Melissa," the insider says.
"They believe whatever their daughter tells them. Teresa plays the victim to her parents and they buy into it."
RELATED STORIES:
Joe Giudice Cheated On Teresa In Atlantic City, Claims Eyewitness
Teresa Giudice Says Melissa Gorga Is Lying, Never Called Her Daughter 'Ugly'
Teresa Giudice's Daughter Being Bullied At School Over Her Mom's Housewives Fame, Says Source