Heidi Montag Learning Hot Moves From The Pros For Strip Club Appearance!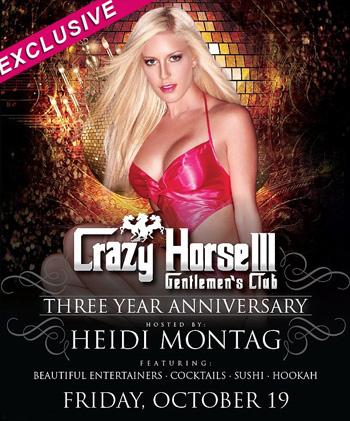 Article continues below advertisement
Her husband Spencer Pratt will be by his wife's side at the club, making sure that the evening goes smoothly.
"We had to take a weekend off of studying for some lap dances. Heidi loves learning hot moves from the pros!" Spencer told RadarOnline.com. "It's true the dancers at Crazy Horse III have some of the best moves in the world and Heidi wants to get some private lessons!"
Heidi appeared in Playboy in 2009 but didn't go fully nude, instead wearing a bikini and lingerie.
She infamously underwent a whopping 10 plastic surgery procedures in a day prior to the centerfold appearance, performed by the late Dr. Frank Ryan, and has since said she regretted all of the enhancements.
Heidi said she "did not feel like she was prepared enough for" the surgeries, which she said left her feeling like she'd been "hit by a truck."
Meanwhile, she's been by her husband's side as he is getting his degree in Political Science from the University of Southern California and Spencer said she attends all his classes with him.