Disney Darling Gone Wild: Vanessa Hudgens Hits The Stripper Pole In Raunchy New Movie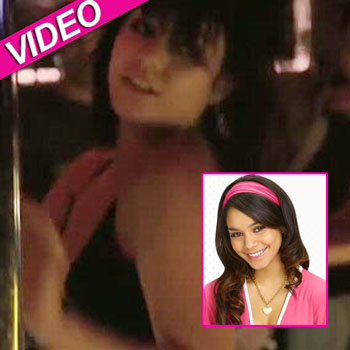 It seems to be every Disney child star's rite of passage.
Miley Cyrus has done it, Britney Spears has too and now High School Musical actress Vanessa Hudgens appears gyrating around a stripper pole in a new movie trailer, and RadarOnline.com has video of her raunchy performance.
The former child star plays a prostitute in the upcoming film The Frozen Ground. The movie is based on the true story of Cindy Paulson, a 17-year-old who escaped the clutches of Alaskan serial killer Robert Hansen in 1983.
Article continues below advertisement
Dressed in skimpy black panties and a matching bra Hudgens gives the role her all as she crawls on stage and twirls around a stripper pole.
It is clear the 23-year-old has thrown herself into the movie, which centers on the young girl who helped to capture the notorious serial killer.
In June 1983 Paulson successfully escaped from Hansen when he was preparing to load her into his bush plane. It was the end of a nightmare that began when the 43-year-old offered to pay the teen $200 to perform oral sex on him. As soon as she got into his car he pulled out a gun and drove her to his house where he raped and tortured her. Paulson escaped before Hansen tried to fly her to his meat shack where he usually shot and killed his victims.
She went to the police but they – convinced by Hansen that she was lying – refused to believe her. The case was finally cracked with the help of a criminal psychologist and the baker eventually confessed to killing 17 women.
In the movie Nicolas Cage portrays the detective who helped capture Hansen, played by John Cusack. The Frozen Ground premieres in December.