5 Child Stars Who've Gone Under The Knife & 5 Who've Aged Naturally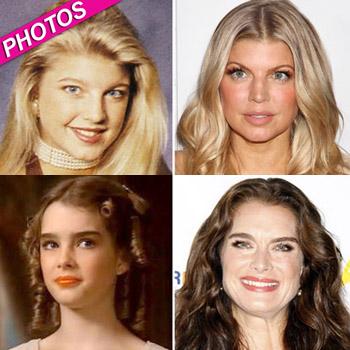 When you grow up in the public eye, it's hard to hide a dramatic transformation!
Making a name for themselves when they were young, these child stars have aged before our eyes, but not all of them have trusted the natural aging process. From television cuties to sassy singers, RadarOnline.com has photos of 5 child stars who have gone under the knife and 5 who have aged naturally.
Christina Aguilera and Fergie both got their start at a young age, snagging covetable roles on The Mickey Mouse Club and Kids Incorporated, but did the sassy singers decide to go under the knife when they grew up?
Article continues below advertisement
Before Anna Paquin vamped it up on True Blood, she was an adorable child star. Winning an Oscar at the age of 11 for her stellar performance in The Piano, the mom-to-be allowed herself to age without getting any work done, even leaving the gap between her two front teeth!
Ashley Tisdale has been performing since the age of 3, but the High School Musical star waited until later in her career before she headed into the plastic surgeons office. Ash has copped to getting a nose job, a surgery she said that she got to correct a deviated septum.
The Wonder Years star Danica McKellar and Saved By The Bell's Elizabeth Berkley got their start playing dream girls on hit television shows, but only one of them transformed into a natural beauty.
Did your favorite child star go under the knife? Find out by clicking here.