Not Fit For A Queen! Kate Middleton's Cousin Strips Off Raunchy Royal Outfit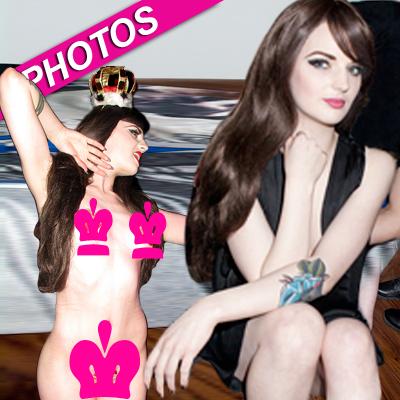 By Debbie Emery - RadarOnline.com Reporter
It's safe to say that the Duchess of Cambridge's cousin will not being invited to have afternoon tea with the Queen at Buckingham Palace anytime soon.
Kate and Pippa Middleton's raunchy relative wore a very skimpy burlesque outfit for her first X-rated show in the U.S., and RadarOnline.com has photos of her shocking look that was a slap in the face to the royal family.
Article continues below advertisement
Entering the stage in a red and gold velvet dress with a Union Jack sash and a crown perched on her head, Katrina Darling peeled off her clothes in a sexy God Save The Queen routine at W.I.P. nightclub in Soho, New York on Tuesday night.
By the end of the 21-year-old's saucy dance, all that was left on her naked body were royal stickers hiding her private parts, the crown -- and plenty of trashy tattoos.
As RadarOnline.com previously reported, Darling is the second cousin once removed of Kate and Pippa. Katrina's grandmother and the Middleton sisters' great-grandmother, Lily, were sisters.
She calls herself the "Royal Family's closest brush with soft porn," and while Katrina has never met the Duchess of Cambridge or Pippa, she said she would love for the royal family to attend her shows. "I'd be happy for them to, but if they don't, it's not the end of the world."
Article continues below advertisement
As for expanding her striptease show from her native England to the US, Katrina said she is excited to expand international relations. "London sticks more to the traditional burlesque side of things, whereas New York really pushes the envelope," she revealed.
If she keeps up mocking the monarchy like that, she may not be welcome back in her homeland for long – off with her head!
RELATED STORIES: