Prince William And Kate Ring In The New Year In Giant Party Tent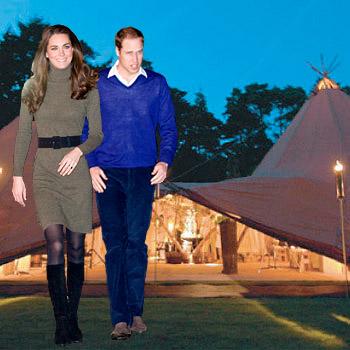 They had been expected to celebrate the new year with his parents and other royals, but Prince William and Kate Middleton obviously wanted to PARTY!
Instead of going to northern Scotland, the newlyweds traveled to her parents home in the village of Bucklebury in the English countryside. Michael and Carole Middleton own a party supply company, and daughter Pippa is a professional party planner, so these people know how to put on a bash.
Article continues below advertisement
Pippa arranged for a huge kata to be set up in her parents' garden.
That's a tent made of animal hides with an opening at the top to let out smoke, and used in Lapland by reindeer herders for cooking, smoking fish and as a shelter from heavy snow.
Modern versions are becoming increasingly popular in Britain and are often used for parties.
Pippa's kata reportedly cost about $5,000 to rent for the night, and was described as a canvas palace. It included and included a dance floor, lighting and seating for more than 100 people.