Exclusive
Hollywood Slammed For 'Sexing Up Disney Stars' As Vanessa Hudgens Hits The Stripper Pole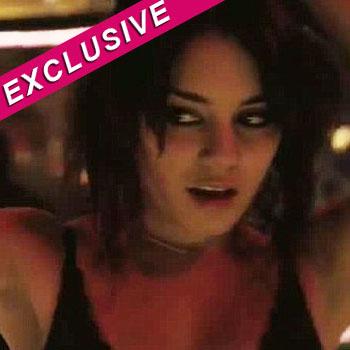 By Debbie Emery - RadarOnline.com Reporter
Vanessa Hudgens' latest raunchy role as a sex performer is a far cry from her High School Musical roots, causing one right wing group to slam Hollywood execs for "exploiting" the formerly angelic actress, RadarOnline.com is exclusively reporting.
"The entertainment industry is intent on teaching young women that the way to succeed in life is to let people use them," Dan Gainor of the Culture and Media Institute exclusively told RadarOnline.com.
Article continues below advertisement
"From Lindsay Lohan to Britney Spears to Miley Cyrus, what would Hollywood do if it couldn't exploit former Disney stars for sex?" he asked.
The clip that offended the group shows the former 23-year-old Disney darling playing a prostitute in the upcoming film The Frozen Ground. The movie is based on the true story of Cindy Paulson, a 17-year-old who escaped the clutches of Alaskan serial killer Robert Hansen in 1983. Dressed in skimpy black panties and a matching bra, Hudgens gives the role her all as she crawls on stage and proactively twirls around a stripper pole.
Instead of blaming the aspiring actress and singer, Gainor is calling out the studios who encourage their proteges to grow up too fast and abandon thier morals.
"Hollywood executives act more like predators who use young stars for their own success. They seem to make it almost a matter of policy of sexing up former Disney stars as soon as they are of legal age," he told RadarOnline.com.
"The movie industry has a twisted affection for making raunchy films that use and abuse former child stars."
This is not the first controversial part that Zac Efron's former teenage sweetheart has taken in an attempt to sex up her image. Last year she squeezed into a skin-tight leather bodysuit and toted a tomahawk and machine gun in the fantasy flop Sucker Punch.