VIDEO: Heidi Montag Blames Dead Doc; Admits She's A Plastic Surgery Addict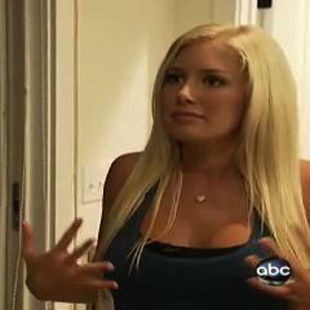 Heidi Montag told ABC News she was addicted to plastic surgery after undergoing ten surgeries in a day this past January, and places the blame for the physical and emotional pain she suffered as result on the surgeon who performed the operations, the late Dr. Frank Ryan.
Watch the video on RadarOnline.com
Montag, 24, told the network she did "not feel like I was prepared enough for" the surgeries, which she said left her feeling like she'd been "hit by a truck.
Article continues below advertisement
"Maybe I should have known," The Hills star said. "But how can you know when your doctor's saying, 'It's just a little of this, it's just a little of that'? You know, it really becomes a lot."
Ryan tragically died at 50 this past August 16 when his Jeep tipped over the side of Pacific Coast Highway in Malibu. At the time, Montag grieved her doctor, calling him in a Tweet, "the most amazing person I have ever known."
"He was an angel and changed my life and the lives of everyone he met," she Tweeted of Ryan August 17. "He was the most brilliant talented surgeon who will ever exist. Dr. Frank Ryan changed the world."
In the new ABC interview, however, Montag is singing a different tune, claiming the doctor misled her en route to the operating table.
"I definitely think I should have been way more informed," Montag said. "I think that doctors should really walk you through all aspects of it, not just the glamorous side of it. Doctors, it's like they're selling you cookies or something.
Article continues below advertisement
Montag said she's torn between her current physical state and her reluctance to go under the scalpel, yet again.
"I don't want the biggest boobs in the world and, to be honest, I would take them out and downsize them but I don't want to go under the knife again," she told the network. "I feel like I'm stuck with them now... sometimes I wish I could go back to the original Heidi."
Montag also said that her recovery from the surgeries hindered her marriage to her hubby, reality TV bad boy Spencer Pratt.
"He didn't sign up to be the nurse to his 23-year-old wife at the time, day and night," she said. "It was so traumatizing what my body looked like. I couldn't look in the mirror. I was hysterically crying... and he's like, 'I didn't marry this girl.'"
As RadarOnline.com previously reported, Speidi's been in the headlines since renewing their vows earlier this month in a beachfront ceremony in Carpenteria, California. It's the third time they've exchanged "I do's" since marrying in Mexico in November 2008, followed by a second ceremony in Pasadena in April 2009.