Exclusive
'I'm Not A Tranny!': X Factor's Quatrele Da'an Hits Back At Cyber Bullies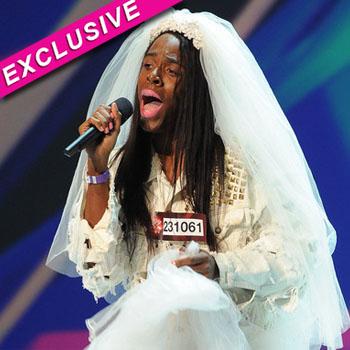 Quatrele Da'an wowed The X Factor judges this week with his performance of Lady Gaga's Born This Way, clad in a white wedding outfit complete with long veil, high heels and bright pink lipstick.
But the 21-year-old cake decorator tells RadarOnline.com exclusively that he is not a drag queen but is in fact androgynous and has been hounded by cyber bullies since his appearance on the talent show.
Article continues below advertisement
"I'm not a drag queen and I'm not a tranny. I'm androgynous," Quatrele said in response to the online gossip. "I'm just a pretty boy like David Bowie and the supermodel Andre Pejic but people are saying I'm ugly as sin.
"I'm getting a lot of flack for my audition but Britney Spears , Simon Cowell and Demi Lovato put me through because I'm talented and they saw something in me.
"I have a lot to offer. I was born a man but tucked it really good, you couldn't even tell.
"Britney was so sweet to me and she was really honest too," he revealed.
Quatrele says he wants to be the "male Lady Gaga because she helped me to feel more comfortable and paved the way for an artist like me to be accepted.
Simon said Quatrele looked like he was the product if "Madonna, Bobby Brown and Dracula had a child."
Quatrele will be seen on the Fox show again when competition moves past the auditions into the second round of performances.