Sorry Simon! The Voice Crushes Premiere Of The X Factor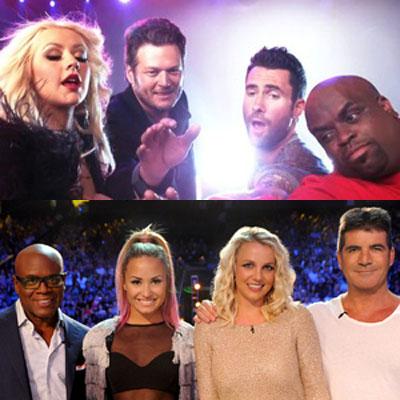 Simon Cowell's worst nightmare just came true - Fox's premiere of his re-tooled The X Factor, most notably featuring the debut of pop princess Britney Spears as a judge, lost in the ratings to The Voice on rival NBC Wednesday night.
Cowell had hoped that by adding the superstar Spears and Disney darling Demi Lovato to the judge's panel, along with him and L.A. Reid, would make for rating success.
Article continues below advertisement
The two highly promoted singing competitions were scheduled against each other during the 8pm hour Wednesday night, and according to preliminary ratings, The Voice scored a total of 10.7 million viewers to The X Factor's 7.5 million -- a difference of a whooping 3.2 million.
Early ratings also show that while both shows scored a 3.3 in the demo rating overall, The Voice led in their shared 8pm hour alone with a 3.3 to The X Factor's 2.7.
As RadarOnline.com has previous reported, Cowell appeared on Ellen this week and expressed his bitterness at The Voice, adding a third show to their premiere week to compete directly with The X Factor's premiere calling it a "spoiling tactic."
"We had the schedule set for months. They were going to go Monday, Tuesday. We were going to go Wednesday, Thursday. And, then they waited to the last second to announce that they were going to book a third show up against our premiere because they wanted to spoil our premiere," Simon said.
Article continues below advertisement
"I think what happened was…I know what happened is, they got wind of how good our first episode is. Britney, I have to say is amazing, as is Demi. And they have done this because they don't want people to see them on the show. My gut feeling is that it is going to backfire on them because you don't mess with the audience."
His comments drew the ire of Voice coach Blake Shelton, who urged Cowell to stop "mouthing off".
"Every time I turn around, he's mouthing off about our show. It's like, 'Do your own show! Come on! Put something together there and do your thing'," Shelton declared, adding: "We'll just do ours and we won't mouth off about you!"
The X Factor continues Thursday at 8/7c on Fox, while The Voice returns next Monday at 8/7c on NBC.
RELATED STORIES:
Demi Lovato Spits Mints Into Simon Cowell's Hand
Demi Lovato Pushing For Khloe Kardashian On X Factor
Britney Spears Bares Banging Bikini Body
Britney Spears And Jason Trawick's Romantic Al Fresco Lunch Date