Demi Lovato Spits Mints Into Simon Cowell's Hand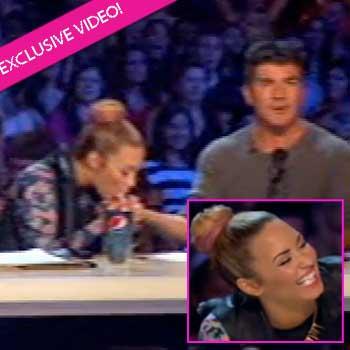 Simon Cowell's nickname for his new The X Factor judge, Demi Lovato, is "the brat" and he might have good reason for it after all.
While judging a performance, Simon suddenly turned to Demi to ask her opinion and the pop singer obviously wasn't expecting it. Her mouth was visibly full of mints!
So what's a girl to do? As you can see in our exclusive video, she took one of Simon's hands and spit them into it.
Article continues below advertisement
"Really, really grown up, Demi," Cowell growled. "You're an obnoxious little brat."
Hopefully she won't do the same on September 11, when The X Factor becomes the first TV show to ever host a red carpet premiere at the legendary Grauman's Chinese Theatre in Hollywood.
The judges have invited fans to come along too. For info go to: www.xfactortickets.com
All four of the judges, including Lovato, Britney Spears, L.A. Reid and Cowell, will be putting their handprints in cement outside the historical theater.
X Factor's Rachel Crow Wants To Take Care Of Sick Dad; Has Many Offers, Says Family Member