Nicole Scherzinger Owns Up To Controversial Rachel Crow Decision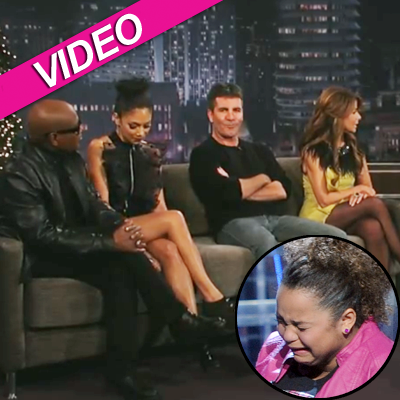 The judges from The X Factor -- Simon Cowell, Nicole Scherzinger, L.A. Reid and Paula Abdul -- appeared on Jimmy Kimmel Monday, where the gorgeous ex-Pussycat Doll "owned up to her decision" to defer the vote of Rachel Crow to viewers, who promptly sent the emotional 13-year-old home.
"It's crazy, because in the moment and under pressure, it's not as easy to just be like, 'Hey, this what I'm going to do and you're going home' and you have to say, 'I'm sending you home,'" the Jai Ho singer told Kimmel. "I owned the decision that I made right then."
Article continues below advertisement
Scherzinger added, "I'm really happy for Rachel because I think she has a deal with Disney now."
As we previously reported, Crow landed in the bottom two with Marcus Canty, and could have been saved by Scherzinger. Instead, she put it in the hands of the audience. After Crow's elimination was announced, the young girl was devastated by the defeat, falling to the ground and crying hysterically to her mother, who jumped onto the stage to console her.
Watch the video on RadarOnline.com
Cowell said the drama officially ends when the curtain rises on this week's edition of the Fox hit.
"It all starts again this week," Cowell said. "Clean sheet. There won't be any of that nonsense anymore."
Josh Krajcik, Melanie Amaro, Chris Rene, and Canty remain in the running when The X Factor returns on Fox Wednesday at 8/7c.