Jerry 'The King' Lawler Recovering After Heart Attack On Live TV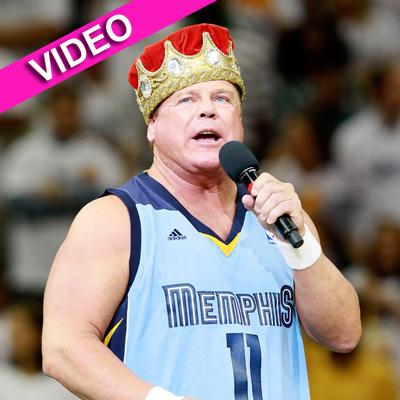 Pro wrestling great Jerry "The King" Lawler suffered a heart attack during the WWE's live broadcast of Monday Night Raw from Montreal.
Lawler's ex wife Stacy Carter tweeted he "had a stent & a balloon put in" and was "still heavily sedated" as of early Tuesday.
On Monday, the 62-year-old Lawler collapsed during the show; his broadcasting partner Michael Cole gave periodic updates of Lawler's well-being during the notably-subdued telecast, reminding viewers the situation was not a wrestling angle, but a "real-life situation."
Article continues below advertisement
The scary incident brought back flashbacks to the 1999 Over The Edge pay-per-view in which wrestler Owen Hart died following a botched stunt; an emotional Lawler, who was broadcasting that night, got in the ring and tended to the fallen wrestler, who was later pronounced dead at a Kansas City hospital.
Many of Lawler's colleagues took to Twitter to offer the wrestling veteran well wishes on the frightening evening.
Lawler's former broadcast partner Jim Ross wrote, "@JerryLawler stable & battling. Lucky to be where he was when incident occurred. WWE doctors, staff, EMTs did amazing job. #PrayersforLawler."
Watch the video on RadarOnline.com
Mick Foley wrote, "Hang in there King. Pulling and praying for @JerryLawler," while Tommy Dreamer wrote, "Going to bed I look fwd to tomorrow & hearing about how @JerryLawler pulled the strap down & blew an amazing comeback #PrayForLawler."
Article continues below advertisement
The WWE issued a statement on its website saying, "We are hopeful Jerry makes a full recovery and returns to WWE in the near future. Our thoughts are with Jerry and his family."
Lawler famously feuded with comedian Andy Kaufman in the early-1980s, famously slapping his rival on Late Night with David Letterman. He went on to play himself in Man on the Moon, the 1999 film chronicling Kauffman's life.