Wrestlers Tweet Memorials To The Late Macho Man Randy Savage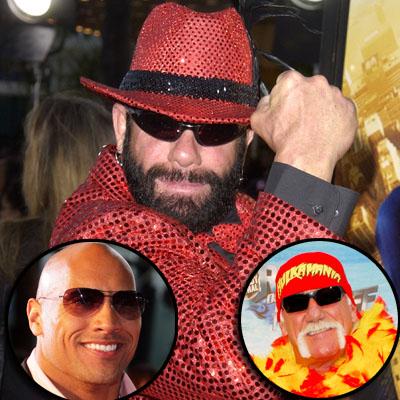 Radar Staff Writer
After the untimely death of pro wrestling icon Macho Man Randy Savage at 58 after a car accident in Tampa, Florida on Friday, the pro wrestling community poured their memorials to the unforgettable star on Twitter.
Hulk Hogan: I'm completely devastated, after over 10 years of not talking with Randy, we've finally started to talk and communicate. He had so much life in his eyes & in his spirit, I just pray that he's happy and in a better place and we miss him. We miss him a lot. I feel horrible about the ten years of having no communication. This was a tough one. I just pray that Randy's happy and in a better place and we miss him.
Article continues below advertisement
Dwayne "The Rock" Johnson: RIP Randy "Macho Man" Savage - you were one of my childhood inspirations and heros. Strength, love and prayers to the Savage/Poffo family. Today Team Bring It will celebrate a life - we will kick ass and chase greatness #OOHHYEEEAAAHHH style!
"Rowdy" Roddy Piper: To SAD TO TWEET..
Kevin "Diesel" Nash: I lost a close friend today. If anybody in heaven is wondering who the cat in the ugly cowboy hat is it's Randy. Love you Bro. Never another
Jim Ross: Just heard Macho Man died this morning of a heart attack while driving his vehicle in Tampa. Condolences to all Randy Savage fans/family.
Jim Cornette: Our deepest condolences in losing another legend. R.I.P. Randy.
Carlito Colon: RIP Macho Man! In my opinion prob top 5 worker of all time!
Bill DeMott: When I got my start in WCW it was Randy that gave me the rub....my prayers and thoughts to the Poffo Family.
Article continues below advertisement
Steve Corino: Randy Savage vs. Ricky Steamboat at WM3 is still 1 of my favorite matches ever. I was 14 & though I "hated" Savage, I never booed him again
As we previously reported, Savage, whose real name was Randy Poffo, was driving in his 2009 Jeep Wrangler when he skipped a median and careened into a tree at 9:25 am ET on Friday, according to the Florida Highway Patrol. He was taken to Largo Medical Center, where he subsequently died.