VIDEO: Snooki Kicks Butt At WWE Monday Night Raw!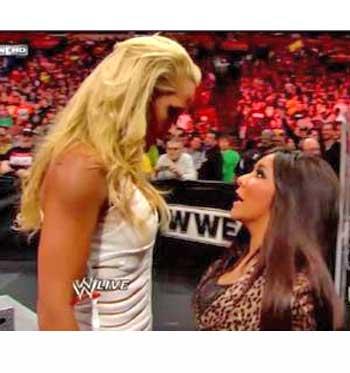 Of all the self-proclaimed gorilla juice-heads roaming the Jersey Shore, who would've thought Snooki would be the show's first WrestleMania headliner?
Yes, the pint-sized Marlboro, New York native made her squared circle debut as a host on Monday Night Raw, as the WWE looked to the pop culture sensation for a ratings boost, just weeks after Snooki's old nemesis Angelina Pivarnick got in the ring for rival wrestling company TNA.
Article continues below advertisement
The wrestling storyline, or angle, on Monday's show saw Snooki -- with fists flying -- charge at female wrestlers Layla and Michelle McCool. At that point, WWE personality Vickie Guerrero (widow of wrestling legend Eddie Guerrero) challenged Snooki to participate in a match at next month's WrestleMania, the pseudo-sport's annual Super bowl.
The contest booked teams Snooki, in a mixed-tag match, alongside John Morrison and Trish Stratus against Dolph Ziggler, Layla and McCool. It will take place at WrestleMania XXVII on Sunday, April 3, available on pay-per-view.