Police: 30 Calls To 911 After Wrestler Matt Hardy's Suicide Hoax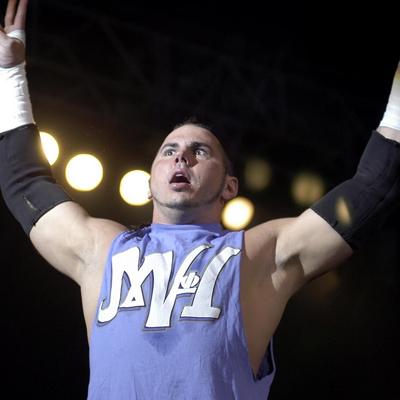 By Adam S. Levy - RadarOnline.com Staff Writer
A YouTube and Twitter-spurred suicide hoax from pro wrestler Matt Hardy led to about 30 calls being made to 911 dispatchers in North Carolina Tuesday, RadarOnline.com has learned.
Hardy, 36, posted a YouTube video called "Goodbye" at around 10:30 pm ET Tuesday that read, "My time here is almost complete, I have only a few hours & minutes, I have loved you all."
He also linked the video from his Twitter page, which has more than 200,000 followers.
Article continues below advertisement
Moore County Police Capt. Henry Marion said following the alerts about 30 calls came in to 911 reporting the ominous message -- leading he and another deputy to check in on the former WWE star at his home, who seemed at ease despite the nature of his social media communications.
"I shook his hand and he told me everything is fine," Marion told FayNews.com.
Hardy attempted to clear up the misunderstanding on his Twitter page Wednesday morning, claiming the initial video "was not in any way a suicide note.
EXCLUSIVE: Hulk Hogan 'Recovering Smoothly' After Back Surgery
"No words such as death, suicide, kill, heaven or hell were included-I wanted to see people's optimism or pessimism towards my words. It's pretty clear to me what their reaction was, and I needed one last attention grabber to let the World know that Matt Hardy has re-found his true self," Hardy wrote.
Hardy was fired from TNA Wrestling following his August 20 arrest in connection with suspicion of driving while intoxicated. In the incident, Hardy drove his 2009 Chevrolet Corvette into a tree.
Article continues below advertisement
"After the events of the last couple of weeks, even though I've made some terrible mistakes, I have come to a revelation in my life," he wrote. "I went from being the guy who wanted to change the world, entertain and inspire people to being someone who was more concerned about shock value and making the world unravel my cryptic messages and videos.
VIDEO: Kate Gosselin's Bodyguard Pulls Prank On Her During Alaska-Based Kate Plus 8
"Regardless of if its in a wrestling ring or not, I WILL change the World, make it a better place, and inspire and motivate others to do the same. I am of sane mind, completely clean of any and all crutches, and feel better then I have in years.
"I apologize to anyone who was taken off guard or frightened by my final, cryptic YouTube entry," he wrote. "I want to reassure everyone that I am doing great right now."