Exclusive
EXCLUSIVE VIDEO: Cops Storm Heidi & Spencer's House, Hold Them At Gunpoint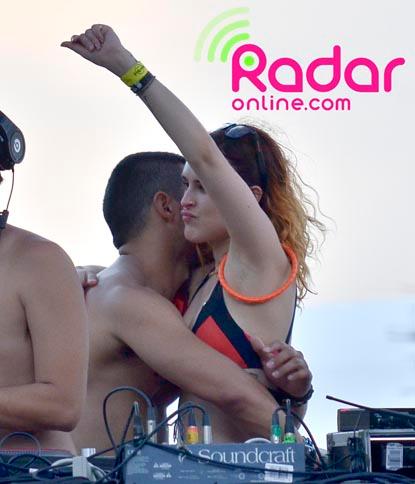 Hard-charging cops drew their guns on a post-plastic surgery Heidi Montag and her husband Spencer Pratt - their fingers just millimeters from pulling the trigger - in a terrifying confrontation at the couple's Pacific Palisades home.
The dramatic moment was all caught on home video, and only RadarOnline.com has the exclusive never-before-seen tape from the January incident.
In a horrifying case of mistaken identity, cops responded to 911 call reporting a suspected 'kidnapping' when Montag - who had just gone under the knife 10 times in one day - was seen rushing into her home while hiding her surgically enhanced face with a scarf.
Article continues below advertisement
"They thought we were holding someone hostage," Spencer, 27, told RadarOnline.com in an exclusive interview.
"The police got a call that a car had pulled up and security guards got out and took a woman with a bag over her head into the house."
Recalled the former MTV star: "The police surrounded the house and the LAPD helicopter circled us."
In the mayhem, four officers whipped guns from their hip holsters and ordered Spencer onto his knees, while Heidi cowered on the couch with her hands behind her head.
Earlier, Spencer had refused to open the doors as he desperately tried to convince the poice that the 911 call was a sick prank.
EXCLUSIVE: Watch Spencer Pratt's New Film Here!
Not convinced, the cops switched off their security cameras as a panicked Heidi - shaking and crying - yelled into her cell phone to a pal that she was being harassed by police.
"We tried to have them wait for our lawyer," said Spencer.
MORE ON:
Celebrity Justice
Article continues below advertisement
"They yelled, 'You don't want to meet the SWAT team'. They said SWAT was on it's way and would break down our door if we didn't open it.
"Heidi had just had her surgery and she was really scared, she was crying. We didn't know who had called the police or why they were accusing us of kidnap. We were in the dark."
But facing a SWAT team storming their home, the couple eventually relented.
"I finally told Heidi to put her hands behind her head while I open the door," Spencer told RadarOnline.com. "I also put my hands behind my head and dropped to the floor and the police yelled 'Get up!'"
Spencer is seen being shoved to his knees and heard begging cops not to force his Heidi to the ground, because he said, she just had surgery.
"They needed to search our house for the 'hostage', so they handcuffed us," Spencer said.
"All we had been trying to do was to keep her face hidden from anyone possibly taking pictures outside the house because we were concerned about the legal ramifications from People Magazine, who we had a deal with for the first photos post surgery.