EXCLUSIVE: Spencer Pratt and Heidi Montag Cash-Strapped; Living At Mom's House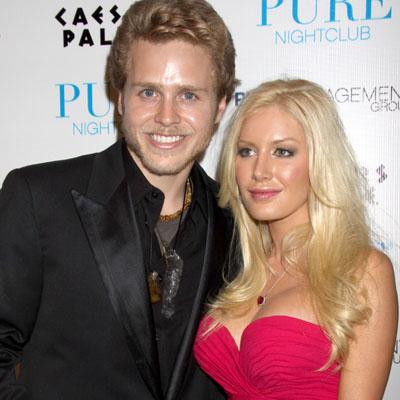 Cash-strapped reality TV (former) stars Spencer Pratt and Heidi Montag are living in one of his mother's beach homes because they have serious money problems, RadarOnline.com has exclusively learned.
RadarOnline.com revealed how the couple made a mess of their $5 million Malibu rental home after they planted trees without permission and allowed their dogs to pee on the carpets, infuriating the property's owner.
Article continues below advertisement
But according to a source close to the couple, the real reason that they left the house was because they could no longer afford the $20,000-a-month rent.
"The truth is that they are cash-strapped right now and their only real form of income these days is from set-up paparazzi photographs," the insider said.
"But the U.S. magazines are not really that interested in them anymore and they are becoming increasingly difficult to deal with.
"A lot of the editors know that the recent split story was a complete sham and they realize that there readers can see through it all now too.
"Spencer thought the shaving off his beard stunt would make a lot of money but he kind of blew it by releasing footage of him shearing it on YouTube.
"Heidi believes that they should be getting paid a lot more money and she has become really demanding now too," the source said.
Article continues below advertisement
"The reality is that they earned a lot of money but did not invest it wisely, spent way too much, and now they are in trouble."
Spencer in particular has real problems managing his cash and has spent a fortune on expensive cars like a Porsche Cayenne SUV, a 1968 Camaro and a customized pick-up truck.
He recently admitted to spending $500,000 on energy crystals saying, "I am so addicted to crystals, it's like a sickness."
Spencer confessed, "I've spent $500,000 on crystals this year. I checked my bank account last night, and I have $203 left. There's a whole science to this. I'm not crazy."
When RadarOnline.com contacted Spencer Pratt about his and Heidi's financial plight he made light of the situation.
"Broke? I've been wisely investing in a substantial and diverse portfolio of film projects like Tower 69: Beach Patrol and buried pirate treasure. True, I might've lost my pirate map, but my broker's working on that. If you find it make sure you send it back to me. It's got a curse on it!"