Exclusive
World's Meanest Mom? Parents Play X-Box Prank On Little Boy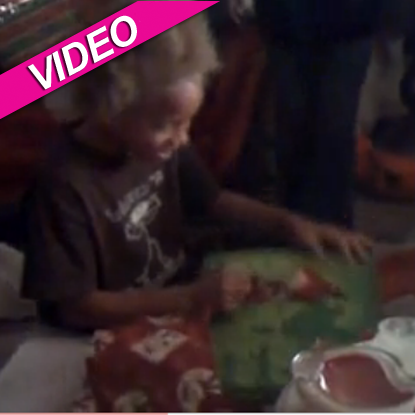 by RadarOnline.com Staff
Is this the meanest mom in the world?
A four-year-old video has gone viral after being loaded on YouTube that shows a cruel practical joke on a little boy -- played out on Christmas day no less!
In the video an excited little boy, named Johnathan, eagerly unwraps a large present as his family watches and his brother videos the action.
Johnathan squeals with excitement as he uncovers an Xbox 360 but then his expression crumples as he opens the box only to discover some sweaters inside instead of the coveted gaming system.
Article continues below advertisement
Laughter fills the room and his brother taunts the little boy from behind the camera: "Jonathan you need winter clothes, what did you think it was?" He asks, adding: "Jonathan we can't afford an Xbox 360... so look at the camera and cry."
And cry he does, the camera zooming in on his young face as tears well up in his eyes.
The brother later posted the video, and the horrible outcome, on YouTube with a description of events: "My mom decides to buy my brother an Xbox 360 for Christmas .
"We leave that night and return the next morning to find he has sneaked a look... just as my mom thought he would, this is the result...and yes he did get the game i will try to post the second video."
However, a second video has never been posted and Engadget.com reports that when they contacted the family for comment they admitted that little Johnathan never did get his Xbox.