EXCLUSIVE: Rachel Uchitel Target Of Cruel 9/11 Taunt: 'Your Husband Didn't Die On 9/11 -- He Escaped'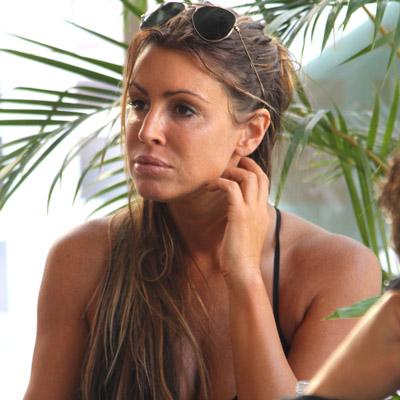 Rachel Uchitel was left "sick to the stomach" after a New York magazine editor sent her a tormenting text message about her late fiancé who died in the September 11 terror attacks, RadarOnline.com has exclusively learned.
Uchitel, the first mistress linked to Tiger Woods, said Steppin' Out's Chaunce Hayden fired off an inflammatory message after a botched photo shoot that read: "Your husband (sic) didn't die on 9/11.... he escaped. I feel his pain."
Article continues below advertisement
Uchitel's 32-year-old love Andrew O'Grady, not husband as Hayden had taunted in his text, was killed in the 2001 Twin Towers attack.
Calling the text message "offensive and tasteless", Uchitel told RadarOnline.com: "I am just utterly appalled that someone would think making a comment like that is acceptable; I am sick to my stomach...
"You can say anything you want about me, you can call me whatever name you want, but 9/11 is off limits," she said.
"This was distasteful, it was below the belt, and clearly comes from a sick place."
Before the 35-year-old brunette made headlines for her tryst with Woods, she was photographed as the face of post 9/11 grief and splashed across the front page of the New York Post.
Uchitel was to appear on the cover of Hayden's free street magazine, while she was in New York on a publicity blitz for Celebrity Rehab 4 With Dr Drew.
Article continues below advertisement
However, the former New York nightclub hostess insisted she walked out on the shoot, which was hosted at a New York strip club, because it was "amateurish" and Hayden failed to supply the prearranged wardrobe.
Uchitel's own entourage backed up her version of events.
"We didn't get kicked out... she left voluntarily because it wasn't par for most people's standards," hairstylist Marc Mena told RadarOnline.com.
Article continues below advertisement
"There was no finance (for the shoot) so there was nothing for her to wear; not enough for a standard photo shoot.
"She tried to make it work, she even used one of her friend's cardigans who was there to try and make it work and it just wasn't, so she used her best judgment and left."
Said friend Alison Goodman: "She was happy to be there, and we tried our best to figure out some sort of alternative or solution, but it felt half-ass and she didn't want to do a bad job."
It wasn't until Uchitel had left the shoot that Hayden began firing off a series of "offensive" text messages, lasting all Tuesday afternoon.
"His ego was so bruised that he chose to act like this," she said.
"Even if you have been through what I and thousands of other people went through after 9/11, you still wouldn't earn the right to be so disrespectful.
"Waking up next to your lover only to have that person die an hour later, it builds a strong resolve.