Exclusive
EXCLUSIVE: Tiger Woods Stopped Rachel Uchitel's $300K Nude Magazine Deal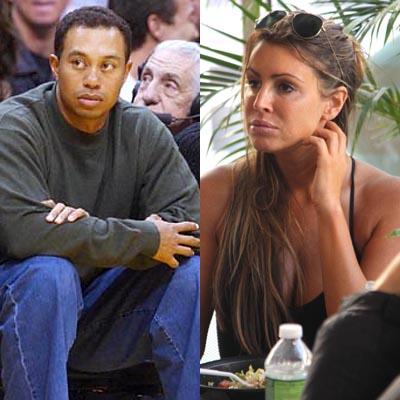 Article continues below advertisement
Publishers also floated the idea of a nude Uchitel posing alongside a tiger cub.
Uchitel was prepared to cooperate, even receiving a contract worth $300,000, but was forced to withdraw because Tiger objected.
"It put Rachel in significant danger of losing the millions of dollars Tiger paid her," a source close to the situation told RadarOnline.com.
"The magazine wanted to mention Rachel's relationship with Tiger, but it would have jeopardized the deal she already made with him.
"They refused to give her complete control of the cover so she could make sure Tiger wasn't mentioned."
Those conditions jeopardized Uchitel's deal with Tiger, and she quickly realized there was no way to pose for Playboy without taking an enormous financial risk.
Had Uchitel gone forward with the men's magazine shoot she was to appear "totally naked except her pubic area," the source told RadarOnline.com.
MORE ON:
Celebrity Justice
Article continues below advertisement
The photos would have shown bare breasts and backside nudity, but she would have had to agree to be completely nude in some of the photo situations.
EXCLUSIVE: Tiger Woods In Sex Rehab
The idea of using a tiger cub in the photo spread was inspired from a shoot rocker David Bowie once did with wolves, we're told.
During negotiations, which occurred shortly after sealing the reported $10 million deal with Woods, Uchitel even tried, without success, to increase the magazine's offer to half a million dollars.
"Rachel was telling people she thought the cover was worth more to them than her," said the source.
Yet not everyone on Team Uchitel thought posing naked was too risky.
"One advisor thought Rachel was an incredible commercial endorsement waiting to be discovered," said a source.
EXCLUSIVE: All Of Tiger's Sexy Texts & Emails To Mistress
"They believed they could create a brand similar to Mariah Carey, Beyonce, Mary J. Blige or Jennifer Lopez and they thought this was a good opportunity.
"Rachel tried everything to make that magazine spread happen," the source added.
Despite what we know now, on December 11, 2009 Uchitel's attorney released the following statement: "Rumors that Rachel Uchitel will be appearing in Playboy have been circulating. Those rumors are false. Rachel will not be appearing in Playboy."