EXCLUSIVE: Rachel Uchitel Leaves Sober Living For Ground Zero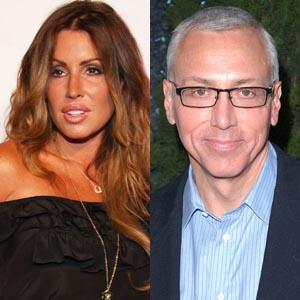 Rachel Uchitel left the sober living facility she has been staying at in Malibu, but did so with Dr. Drew Pinsky's permission, a source close to the situation tells RadarOnline.com.
"Rachel and Dr. Drew visited Ground Zero last Thursday. The aim of the visit was to be completely cathartic for Rachel because her fiancee, James Andrew O'Grady worked in the Twin Towers and was killed on 9/11. Rachel has told friends that was when her life began to unravel, after she lost James. The visit was extremely emotional for Rachel, but it did give her a sense of closure, as much as someone can have that has lost someone under such horrific circumstances. Dr. Drew was with Rachel for the visit, to give her support, and advice as she goes forward with her recovery," a source close to Rachel tells us.
Article continues below advertisement
BIKINI PHOTOS: Uchitel Strolls On Beach While Tiger Divorces
Rachel told The New York Times when she married Steven Ehrenkranz in 2004 of losing O'Grady, "I was very strong after the night of 9/11," but two years after the attacks, she experienced, "a massive breakdown, I couldn't get through the day." The marriage to Ehrenkranz was short and ended in divorce.
Rachel talked with people at a nearby 9/11 memorial in a park to that also lost loved ones, and that "it was a very powerful, raw moment. It was spontaneous. One person in particular truly touched Rachel."
Cameras from Celebrity Rehab 4 captured the dramatic day of Rachel's visit, and our sources tell us, "the audience will truly see a side of Rachel that no one has publicly ever seen."
Dr. Drew was in New York City last week filling in as host for Joy Behar, and Rachel immediately returned to the sober living facility in Malibu.
Celebrity Rehab 4 premieres on VH-1 in October.