Wrestlers Remember The Late Macho Man Randy Savage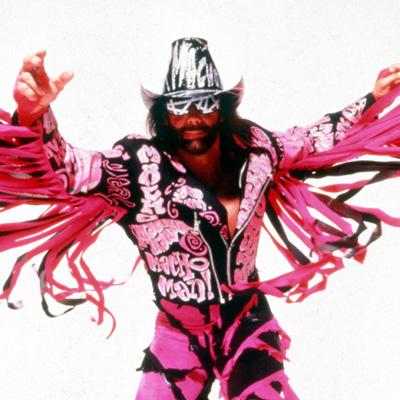 Macho Man Randy Savage continues to be warmly remembered by his pro wrestling colleagues after his untimely death at 58 after a car accident in Tampa, Florida on Friday.
Wrestling legend Ric Flair, who headlined 1992's Wrestlemania VII at the Indiana Hoosier Dome in against Savage, said the news hit hard.
"It's pretty sad," Flair told Charlotte's The Fan 610 AM WFNZ over the weekend. "He just recently got married, it's been a little over a year, and was happy and, you know, really seemed to be at peace with himself. He just had a phenomenal career and to have this happen is just really, really sad.
Article continues below advertisement
"The thing I feel worst about, of all of the guys that are available and eligible to be in the WWE Hall of Fame -- there most be something that I'm unaware of that's gone on and they've never inducted him, because Randy certainly was a major player for the WWE in the Mecca days of the 80s and 90s."
Wrestler/politician Brian Blair said the late Macho Man had "a great heart," and used his fame as an ambassador of charity on many occasions.
"He was a wonderful guy," Blair, who wrestled in The Killer Bees tag team, told Tampa Bay Online. "He was fond of children, even though he had none. Every time I asked him to do a children's event, there was no problem, he was always there."
Fidel Sierra, who wrestled as The Cuban Assassin, said that as intese and as over the top as Savage was in the ring, "He was a different guy outside the ring" and someone he was proud to call his friend.
Article continues below advertisement
Former WWE wrestler Lance Evers, who wrestled as Lance Storm, wrote that as a young fan growing up amidst the 80s wrestling boom, "Randy Savage was instantly my favorite.
"He was the perfect blend of flash and substance. He had the sequined robes, the crazy look and style, which grabbed your attention, and even more importantly for me, the athletic ability and skill to back it up and keep you wanting more."
Ex-wrestler "Dirty" Dutch Mantel said eloquently summed up Savage's legacy, saying, "One thing's for sure: Nobody's ever going to forget him, because his personality was so huge that he'll live forever."
As we previously reported, Savage, whose real name was Randy Poffo, was driving in his 2009 Jeep Wrangler when he skipped a median and careened into a tree at 9:25 am ET on Friday, according to the Florida Highway Patrol. He was taken to Largo Medical Center, where he subsequently died.
Article continues below advertisement
The accident was not alcohol-related, police said, adding the charismatic matman might have suffered "a medical event" that precipitated the crash; preliminary results drew inconclusive.
His wife Barbara, who was also in the car, survived with minor injuries. She was released from Bayfront Medical Center on Saturday.
"The irony in that is Randy was only 58-years-old," Flair said. "That's sad, because I guarantee you he had enough money to live 200 more years. He made it. He worked hard to earn it. He worked very hard to earn it. He deserved it.