Exclusive
Mick Foley Pulls Double Duty At WrestleReunion, Royal Rumble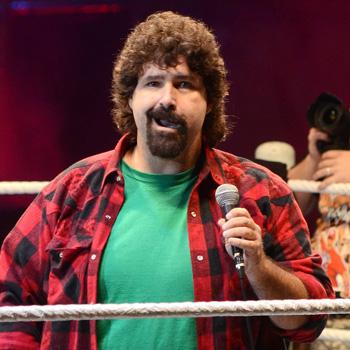 By Adam S. Levy - Radar Staff Writer
When he's not doing stand-up, writing bestsellers or getting tossed off 16-foot-cages, Mick Foley is a man of the people.
The pro wrestling mainstay's always been in touch with his fan base, from his early days working the extinct territorial circuit, to his four books (in which he's relentlessly ribbed pal Al Snow), to his time in WWE, where he's held the promotion's coveted championship on three occasions.
Article continues below advertisement
Mick's got a busy weekend ahead as he prepares to appear Friday and Saturday at WrestleReunion, a gala convention celebrating its third year in Los Angeles at The Westin Hotel, featuring autographs, photos-ops and three live shows. He'll then hightail it to St. Louis, where he'll be one of 30 participants in the WWE's annual Royal Rumble pay-per-view Sunday.
We caught the three-time WWE champ for a Q&A to touch base on the convention, as well as other goings-on in his near future.
Radar: What makes this appearance at WrestleReunion unique?
Mick: WrestleReunion does a great job of bringing together some of the biggest names in the business and really getting a great weekend full of activities to the fans.
Radar: With your imminent participation in the Royal Rumble, will this be your last non-WWE event?
Mick: That, or one of my sporadic comedy shows. It's certainly the last chance people will get to see me in a total wrestling atmosphere. WWE was nice enough to let me finish out all my commitments, and WrestleReunion was nice enough to let me catch a red eye to take a flight out to the Royal Rumble.
Article continues below advertisement
Radar: Big conventions like WrestleReunion make for a mother ship of fans; that said, what's the most bizarre thing a fan has ever said or given to you?
Mick: Years ago, I was very surprised when a fan asked me to sign something, and then took off her prosthetic leg -- that was unusual -- since then, I've signed hundreds of prosthetic legs. ... I've been given very nice gifts all the time by the fans: Usually, artwork, sometimes a CD by an artist they know I enjoy, sometimes a book, sometimes a DVD.
Radar: Speaking of memorabilia, gifts and the like, you've had dozens of action figures released in your likeness; what's your favorite of 'em all?
Mick: WWE put together a limited edition Cactus Jack with leopard skin books by Jakks that I really enjoy.
Radar: After years of working his way up through the ranks, current WWE champ CM Punk has made an unlikely rise to the top; do you see his rise as similar to your own?
Article continues below advertisement
Mick: I see parallels that it's unlikely! He's doing things differently than everyone else. I see more parallels with myself in Steve Austin's character.
I certainly enjoy Punk's character, and I'd like to think that I have something in common with him.
Radar: Any obligatory Al Snow digs before we go?
Mick: I heard a great one when I was in the UK recently: What's the different between Al Snow and an an*s? Well, one's a ring in the bum ...
That's probably my funniest Al Snow joke right now. Al's actually very witty on Twitter, he's one of the funniest people out there on Twitter -- it was a lot more fun to make fun of Al Snow before he had an outlet!
WrestleReunion is slated for January 27, 28 & 29 at The Westin Hotel at LAX. For $25 a day, you can get you into the convention and a ticket to that day's live show.
For more of Mick, check out his official website, and follow him on Twitter @realmickfoley.