Linda Hogan Suggests Hulk Hogan Had 'Intimate Relationship' With Brutus Beefcake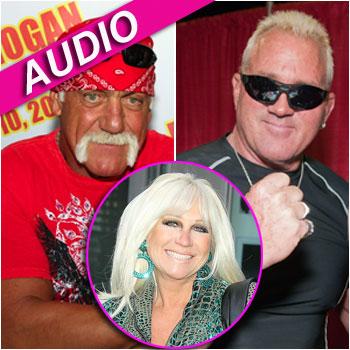 Linda Hogan on Tuesday implied that her ex-husband, Hulk Hogan, carried on an "intimate relationship" with his best pal out of the ring, Ed "Brutus Beefcake" Leslie.
The ex wife of the immortal grappler appeared on Matty P's Radio Happy Hour when the host went through a series of questions culled from fan emails; at one point, he asked Linda if her ex and Beefcake carried on "an intimate relationship."
Article continues below advertisement
"Wow, I don't know how to answer this, so I don't end up getting a lawsuit," she said, laughing. "A little bird told me, 'Yes they think they did.'"
Despite limited in-ring skills, Leslie was a constant presence in the promotions Hogan worked for at the time. His greatest success in pro wrestling came in the 1980s as Brutus "The Barber" Beefcake, in which he'd put his opponents to sleep, then cut their hair afterwards.