Exclusive
Jason Biggs 'Too Dirty' For Nickelodeon, Dubbed A 'Foul-Mouthed Scumbag,' By Family Group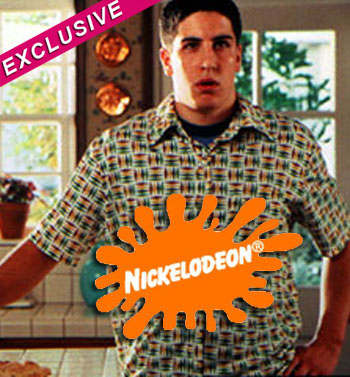 By Debbie Emery - RadarOnline.com Reporter
The decision to cast Jason Biggs as one of the voices in Nickelodeon's upcoming Teenage Mutant Ninja Turtles series has caused outrage among family values groups who are shocked by the American Pie star's recent crude and "disgusting" online comments .
"How is it possible that Nickelodeon, a network for kids, is headlining an actor best known for having sex with a pie?" marveled Dan Gainor of the Culture and Media Institute in an exclusive interview with RadarOnline.com.
Article continues below advertisement
"First Biggs made a series of foul and disgusting comments about Ann Romney and Janna Ryan when Nickelodeon had actually linked his Twitter feed to their site," he revealed.
The toxic tweet in question was posted on August 29, when the actor wrote: "I'd totes dip a pinky or two in Paul Ryan's wife's bleached a**hole (she obvs bleaches her a**hole.) #RNC"
"But after Biggs caught flack for his awful, misogynistic comments on Twitter, he continues to act like a foul-mouthed scumbag," Gainor went on to tell RadarOnline.com. "Biggs used the F-bomb both on a British TV show and retweeted it on Twitter, talked about being aroused in his famous pie scene, fingered other pies provocatively and made a series of other inappropriate comments."
In response to RadarOnline.com exclusively reporting that Paris Hilton recently made a homophobic rant in a New York City taxi, Biggs took an already controversial act to a whole new low level by tweeting: "Gay men are disgusting! exclaimed Paris Hilton as she autographed copies of her sex tape in an ejaculate soaked tank top."
It appears that even the children's network is having second thoughts on their hiring decision, as earlier this month they released a statement distancing themselves from the foulmouthed man now voicing Leonardo.
Article continues below advertisement
"Nickelodeon does not support or condone the use of graphic or vulgar language on any of our platforms," the network announced. "It was our mistake to link from our Teenage Mutant Ninja Turtles twitter feed to Jason's personal twitter account, and we quickly corrected our error. We also insisted Jason use better judgment and discretion in public communications while affiliated with our brand."
Gainor also showed his disdain for Jason's wife, Jenny Mollen, whom "once hired a prostitute for Biggs, and even commented that his Teen Choice nomination meant 'tons of eighth grader pu**y.'"
Feisty Jenny, who writes a blog for Playboy, isn't out of danger for Biggs' X-rated tweets either, and her inappropriate hubby even posted of raunchy photo of her with his sister, along with the caption: "My wife @jennyandteets having sexual relations w my sister. Normal?"
"What message are Nickelodeon and its advertisers sending families by dealing with these freaks?" asked Gainor. "Nick's own website claims 'making Nick.com a safe place for Nick fans to hang out is our #1 goal.' If that's the case, they need to find a replacement for Biggs."
Article continues below advertisement