American Pie Reunion: Who Made Bank And Who Didn't (Poor Tara Reid!)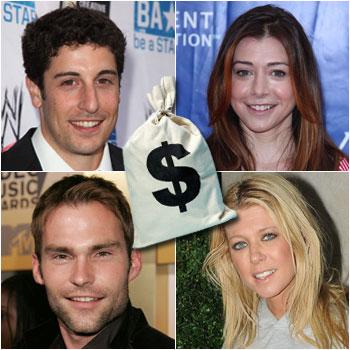 By Amber Goodhand - Radar Reporter
Universal managed to wrangle the cast of American Pie together for a reunion movie more than 10 years after the original was made, but you'll be surprised to learn what each cast member is earning!
RadarOnline.com has learned the $50 million film doled out salaries to stars ranging from $250,000 all the way up to $5 million.
According to the Hollywood Reporter, Seann William Scott and Jason Biggs are earning a whopping $5 million apiece while Tara Reid is the least paid member of the cast, raking in a comparatively paltry, $250,000.
Article continues below advertisement
How I Met Your Mother star Alyson Hannigan is reportedly making $3 million along with Eugene Levy and sources say the actors success outside of the American Pie franchise weighed on their salaries for the reunion movie.
Also appearing in American Reunion is Chris Klein, Jennifer Coolidge, Mena Suvari, Shannon Elizabeth, Eddie Kaye Thomas, Natasha Lyonne and Thomas Ian Nicholas who cashed in for between $500,000 and $750,000.