Jason Biggs' Model Wife Tweets About Her 'Boobs'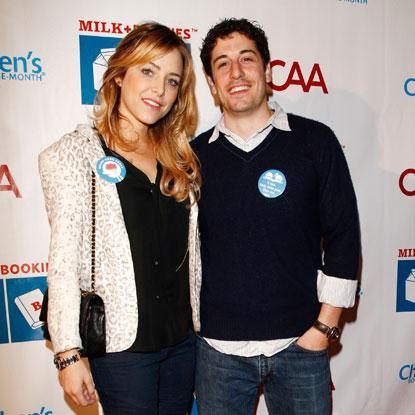 Jenny Mollen followed up her incredible blog about the time she and hubby Jason Biggs hired a prostitute for a threesome, with another TMI revelation today.
"I wish my boobs were positioned closer together," the wife of the American Pie star tweeted on Saturday.
As RadarOnline.com previously reported, Jenny writes a blog for the Playboy owned site, The Smoking Jacket. That's where she opened up about the time "My husband and I got a whore."
Article continues below advertisement
Jenny also quite randomly tweeted that her "favorite Oregon Trail scenario was always where my husband died of cholera and a really hot black guy had to fix my axle!"
Jason, who is getting a reported $5 million salary for a new American Pie movie, isn't complaining about Jenny's candor. He joined in the fun, tweeting, "My wife is in Playboy. Hot."
Now we know what keeps these two together!
RELATED STORIES: