Awful Body Art Of The Rich & Famous! The 10 Worst Celebrity Face Tattoos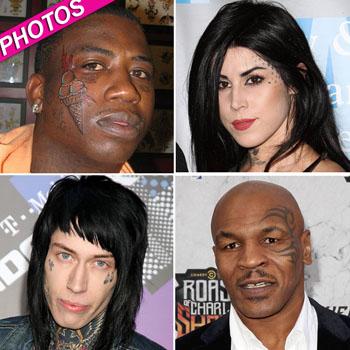 It's hard to hide a tattoo, when it's plastered on your face forever!
While several stars get inked in places where they can hide their body art if needed, others are more fearless and bold about their permanent etchings – going under the needle and marking their mugs. RadarOnline.com has photos of the 10 worst celebrity face tattoos.
Mike Tyson was one of the first high-profile stars to boldly get a face tattoo and the professional boxer's facial marking is so famous, that it was even parodied in The Hangover 2.
Article continues below advertisement
From high fashion logos to teardrops, Lil Wayne, Wiz Khalifa, The Game and Birdman all have notably inked faces, but it was Gucci Mane who grabbed the most attention for his facial art of choice. After being ordered to a mental hospital in 2011 following a court battle, the rapper went and got a colorful ice cream cone permanently etched on his right cheek. Not so cool!
Females get face tattoos too! Monica 'Danger' Leon and Kat Von D both have markings on their pretty faces.
Luckily for these stars, if they ever want to get rid of their markings, it can be easier to achieve than one might think.
"Due to the safety and selective nature of current Laser Tattoo Removal technology, and with the concomitant use of occlusive and protective eyewear that completely blocks out the laser energy, laser tattoo treatment of the face and neck can be easily achieved, both effectively and safely," reveals Dr. Shalini Kapoor, M.D., C.M., Medical Director at LaserAway.
Article continues below advertisement