PHOTO: Gucci Mane's 'Cool' New Face Tattoo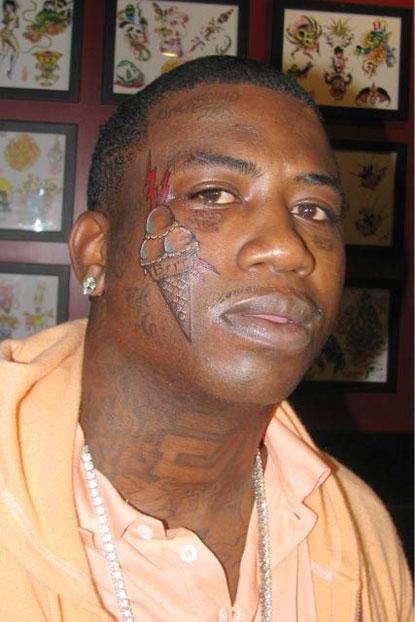 Rapper Gucci Mane has given new meaning to 'cool' after getting a huge face tattoo of an ice cream.
RadarOnline.com has the photo of the troubled star's new inking which is getting a 'chilly' reception from fans who have taken to Twitter to voice their concerns.
"I am officially no longer a Gucci Mane fan," said one tweet. "It's a sad day when a grown man tattoos an ice cream cone on his face."
"Wtf is goin on with Gucci Mane and this ice cream cone tatt?" read another. "C'mon son."
Article continues below advertisement
The musician - who's trademark saying is 'Brr' - was order to spend time at a psychiatric hospital by a judge after his lawyer entered a 'special plea of mental incompetency' in his latest court battle.
However sources claim he did not go and has instead been in the recording studio working.
ON YOUR RADAR: Top 40 Biggest Celebrity Stories Of The Year
"Gucci is currently filming a new reality show with rapper Waka Flocka (flame)," said the insider. "They are in the studio as we speak."