Tat-Who! Did Eva Longoria Permanently Removed Her Matching Tony Parker Tattoo?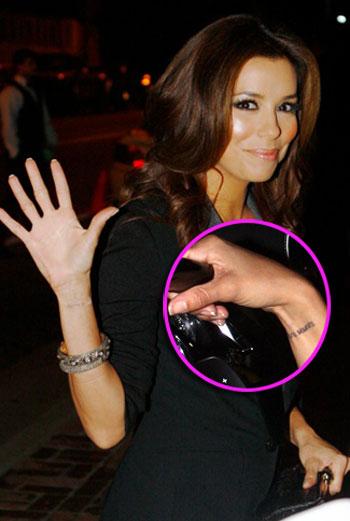 Eva Longoria appears to be saying, 'Tat-Who?' to Tony Parker after stepping out with her matching marking missing from her wrist.
RadarOnline.com has these photos of the newly single Desperate Housewives star looking the picture of happiness as she arrived at Jeremy Renner's party over the weekend.
But despite her jovial appearance, one thing was missing, a tattoo she once had of Roman numerals representing her wedding date.
Article continues below advertisement
"The tattoo had been rubbed off for sure," said one onlooker. "It looked like it had been lasered off and you could clearly see there was a bit of skin discolouring."
Longoria's clear wrist was on show when she waved to photographers as she made her way into the party in Beverly Hills.
In the past she has admitted to covering up the 'VII VII MMVII' marking with make-up for filming of her hit TV show.
But either way, she clearly no longer wants to show off the tattoo celebrating her Italian wedding three years ago.
Parker had the same tattoo permanently drawn on his left ring finger.
It's not known if she still has the number 'Nine' tattoo - symbolising the number on Parker's basketball jersey - on the back of her neck.
The couple split last November and it was rumored Tony had an affair with the wife of one of his teammates at the San Antonio Spurs