PHOTOS: Bikini Wars! Models-Turned-Actresses Vs. Actresses-Turned-Models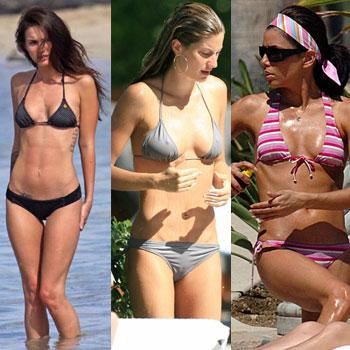 Whether they hopped from the glossy pages of magazines to the big screen or the other way around, there is no question that all of these swimsuit sirens are sexy-but who brings the most heat to the beach?
It is a battle of the bikini bodies, when the hottest models-turned-actresses are pitted against actresses-turned-models in RadarOnline.com's Bikini Wars!
Megan Fox is undeniably one of the sexiest stars on the big screen. The loose-lipped bikini babe, who has stripped down for Armani Underwear, was replaced in the 3rd installment of the Transformers franchise with sizzling supermodel (and Victoria's Secret Angel) Rosie Huntington-Whiteley. Which of these Transformers hotties has the most banging body on the beach? To find out who brings home the Bikini Wars gold click here.
Article continues below advertisement
Eva Longoria and Gisele Bundchen have a lot more in common than a thing for professional athletes -- they are both painfully sexy! Though both the Desperate Housewife and the ex-Angel make oodles of money in their primary careers, each has dabbled their feet in the other's professional arena (Gisele was in The Devil Wears Prada and Eva was the first face of Bebe Sport). Which bikini babe brings more heat to the beach? Click here to find out.
Rebecca Romijn is a sultry supermodel from Europe, who scored box office gold with the X-Men franchise. Angelina Jolie is a big screen babe, who has used her bombshell looks to sell clothes for the luxury brand St. John. Which of these hot mammas makes a bigger splash with their sexy bikini bod? To see Rebecca and Angie duke it out in their bikinis click here.
And while model-turned-actress Charlize Theron and actress-turned-model Jennifer Connelly may have Oscars sitting on their bookshelves, only one of these uber-babes will take home the Bikini Wars medal. Find out which one of these hot-bodied Academy Award winning babes has the better beach bod here.