Lady Gaga Wears Racy Outfit & Gets Tattoo At NY Launch Of Her Fame Perfume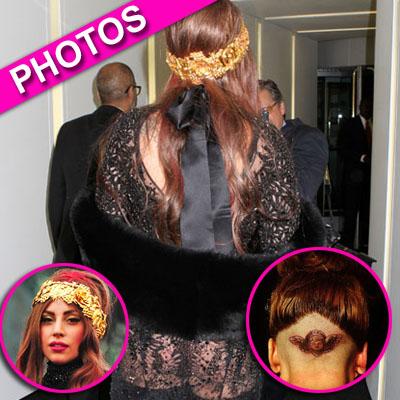 Top this one Madonna!
Lady Gaga got a new tattoo on her neck Thursday at New York's Solomon R. Guggenheim Museum, where she launched her new fragrance, Fame.
The 'Poker Face' singer, known for her over-the-top outfits and grand entrances, first appeared wearing a floral robe with hood.
She appeared at the venue inside a life-size perfume bottle, as onlookers snapped away pictures of the never-boring songstress. Gaga, who's closing in on an unprecedented 30 million Twitter followers eventually stripped down to a lacy outfit that showcased her rear end, as she wore a thong. Later, tattoo artist Mark Mahoney began working on the small of her neck.
Article continues below advertisement
Also at the event, director Steven Klein debuted a short movie he made about the 'Born This Way' singer. Celebs to appear at the black tie function Thursday included Lindsay Lohan, Michael Strahan, Marc Jacobs, Paris Hilton and Yoko Ono.
Fame is the name of the 2008 album that put the five-time Grammy winner on the map. The perfume, which is black, is a fragrant mix of orchid incense, apricot, saffron and honey. It's available in stores now.