Chad 'Ochocinco' Johnson's Desperate Attempt To Garner Sympathy After Wife Beating Will Backfire, Says Expert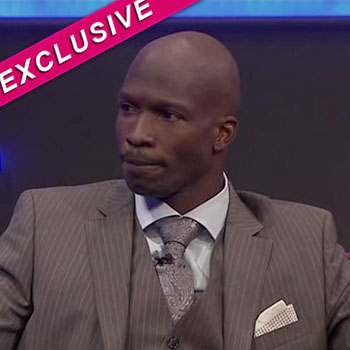 Warning: mysql_ping(): MySQL server has gone away in /home/wpcom/public_html/wp-content/db.php on line 481 amradaronline.wordpress.com
By Debbie Emery - RadarOnline.com Reporter
The evening after his quickie-divorce from Evelyn Lozada was made official, shamed NFL player Chad "Ochocinco" Johnson made his first TV appearance since their marriage meltdown where he talked about his meteoric fall from grace.
"I'm taking class, anger management classes. I'm trying to find out how I can channel my anger...How can I diffuse those situations," the former Miami Dolphins wide receiver told Showtime's Inside The NFL in an interview that aired Wednesday night.
Article continues below advertisement
While Johnson made out that the therapy was a personal choice, a crisis management expert tells RadarOnline.com that he believes Chad's words are a desperate attempt to seek forgiveness from the public that will most likely backfire.
"Even to give the notion that this is voluntary is a mistake, obviously this is not voluntary. It will have been court ordered and he shouldn't be alluding to that," Michael Bilello, President and CEO at Centurion Strategies, a public relations and marketing agency that handles high-profile athletes, told RadarOnline.com in an exclusive interview.
As RadarOnline.com previously reported, Basketball Wives star Evelyn filed for divorce from her estranged husband after just 41 days of marriage following a violent incident on August 11 when he head butted her. The six-time Pro Bowl receiver was then arrested by Davie, Florida police and released from jail on $2,500 bond the next day after being charged with simple domestic battery, a misdemeanor.
Article continues below advertisement
The 34-year-old has subsequently struck a plea deal with prosecutors in the domestic assault case, and will not serve any jail time. He is due in court for a hearing on Friday when the judge is expected to finalize the agreement.
The serial cheater and wife-beater went on to tell Inside The NFL, "I gotta work on Chad. Chad's gotta work on Chad. Chad needs to go deep down inside and figure out what went wrong," he said, brashly speaking in the third person.
"First off, I lost two things that I love. Football…And being married, being a husband, being a lover, it was an honor. And I lost that. You know that saying, 'You never know what you have until it's gone?' And now I finally know what they mean," revealed Johnson.
"I had an altercation. An altercation with my wife. The consequences for that altercation with my wife was me being released," he said, talking about being fired from the Dolphins following his arrest before the football season even began. "That was the reason. There's no need to blow smoke up my ass. That's the reason...I'm human. I made a mistake.
Article continues below advertisement
"(I have) humbled myself. And when you get a humble Chad Johnson that has lost everything and has to work his way back up, you're not getting that same fun guy," he lamented.
Despite his apology, Bilello believes that it is far too soon for the player to be talking so openly, and he should instead keep his mouth shut and keep a low profile. "I think it is just early for him to talk about this," he told RadarOnline.com.
"If he was a client who had been in a domestic abuse kind of scandal, I would say to come back so soon and say you are 'working on you,' is a bit premature in the traditional crisis management cycle.
"We would tell him to that if you are truly 'working on Chad and Chad is looking at Chad,' then Chad needs to go away for a little bit longer and at least act like you're giving it some time," he quipped.
Article continues below advertisement
Last week, Johnson bragged about the size of his most proud asset - his savings account - on Twitter, which Bilello thinks is a huge mistake.
"He shouldn't be talking about his bank account on Twitter. Really? You're going through this and you know what America is going through. Money is a point of contention in America, don't talk about your bank account. Put it away and really work on you!" he charged.
Chad Johnson Desperate To Win Back Evelyn Lozada: The Shirt Says It All!