Will Robsten Ride Out The Storm? 12 Celebrity Couples Who've Survived Major Scandals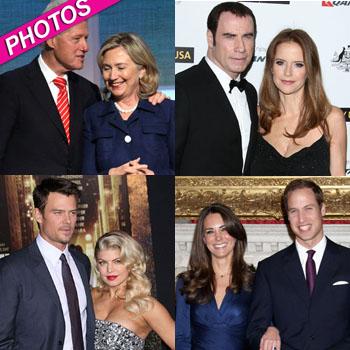 If Robert Pattinson and Kristen Stewart manage to put the actress' shocking cheating incident behind them, they won't be the first Hollywood couple to ride out a scandalous storm and live happily ever after.
From sex tapes and nude photos to sexting and cheating allegations, the world most famous celebrities, politicians and royals have been involved in shocking scandals that could have easily destroyed their relationships with their significant others, but what didn't kill them only made them stronger! RadarOnline.com has photos and details about 12 celebrity couples who have survived major scandals and stayed together.
Article continues below advertisement
Victoria Beckham and Fergie didn't let affair allegations get between them and their hunky husbands! While soccer stud David Beckham has been embroiled in more than one cheating scandal during his marriage to the Spice Girl, Josh Duhamel took a major blow when a stripper insisted that she had bed the Las Vegas hunk. But luckily for the men, Posh and the Black Eyed Pea held their heads high and stood by their men, who both denied the cheating accusations.
When it comes to politics, Bill Clinton and Anthony Weiner definitely steamed things up with their shocking sex scandals. While the former President was busted with his intern, Monica Lewinsky, and the New York congressman was caught sexting photos of his private parts with numerous women who were not his wife, both the men managed to keep their marriages in tact.
Hank Baskett didn't let a little sex tape that was made years before he met his Girl Next Door wife, affect their matrimonial bliss. Kendra Wilkinson got hot and heavy with a galpal and another guy in the racy home video that was filmed in 2003, years before she moved into the Playboy Mansion.