Exclusive
Robert Pattinson And Kristen Stewart Putting On United Front For Twilight Promotion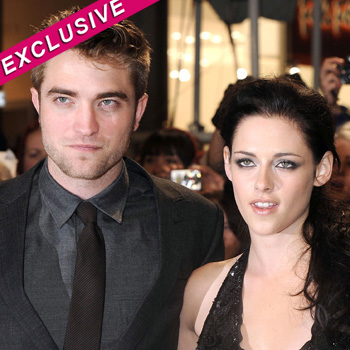 Article continues below advertisement
Robert, 26, is keeping Kristen, 22, in the "friend zone" for the time being until he decides if he should take her back after she was caught cheating on him with her married Snow White and the Huntsman director Rupert Sanders.
"Rob and Kristen are simply making sure that the promotional tour for the final Twilight movie goes as smoothly as possible," a source revealed.
"They don't want their personal lives interfering with work and by appearing like they have kissed and made up it will seem that all is fine between the pair.
"Both Rob and Kristen are consummate professionals when it comes to their careers and are very aware that the Twilight movies and fans put them on the map. They have no intention of letting them down by not doing any press interviews for the new film.
"Of course, there will be some trepidation, but this is about work not about whether they are getting back together or not.
"Robert is still unsure about Kristen; he feels more comfortable having her as a friend for the foreseeable future.
Article continues below advertisement
"Only time will tell if he takes her back further down the road," the source said.
As RadarOnline.com previously reported, the two have been quietly meeting in the guest house of a pal's Los Angeles home.
An insider claimed Pattinson has "invited us over for visits" to the clandestine back house in the Los Feliz area, where he and Kristen have kept their embers stoked since publicly breaking things off following the starlet's cheating scandal earlier this summer.
"They're working it out -- he's still in love with her," an insider said.
A source close to the Remember Me star says the couple has been doing things backchannel to avoid the stigma from Twilight fans aghast over the initial scandal, predicting the pair will announce they're a couple again "in a few months."
While, according to other reports, Robert and Kristen met up in Los Angeles over the weekend of September 15 with an insider revealing that friends of the British hunk "think they'll be a couple again."