Exclusive
Don't Stop Believing! Kristen Stewart Still Praying That Robert Pattinson Will Take Her Back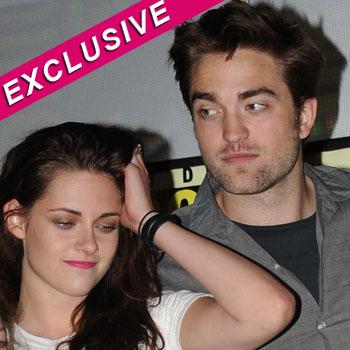 By Jon Boon - RadarOnline.com Reporter
Kristen Stewart has been telling pals that her worst nightmare would be to see Robert Pattinson with another woman, RadarOnline.com exclusively reports.
However, the distraught 22-year-old actress is still holding on to the hope that her Twilight co-star will eventually take her back.
And because of this, Kristen, who recently purchased a home in Malibu under her mother's name, is praying Robert, 26, will forgive her for cheating with her married Snow White and the Huntsman director Rupert Sanders, and let her move in with him again when the dust's settled.
Article continues below advertisement
"Kristen is clinging onto the belief that Robert will eventually forgive her for the cheating scandal and they will get back together," a source revealed.
"She doesn't want to even picture the idea of Robert meeting someone else, despite her recent flirtation with James Franco, because it fills her with dread.
"The Malibu property was bought specifically for Kristen's mom, Jules. It's a temporary home for Kristen for the time being, but she's praying that when Robert finds a new place, whether it's in Los Angeles or London, they could maybe start over again.
"It's still all up in the air. Robert has no idea what he wants to do and he's dithering over a decision. He loves Kristen, but his family told him to forget about any ideas he has of taking her back.
"Time will soon tell and the ball is in Robert's court. If he can forgive, forget and make the brave decision of letting his heart rule over his pride they may get back together," the source divulged.
As RadarOnline.com previously reported, Kristen was spied enjoying a tete a tete with hunky 127 Hours actor James Franco last week at the Toronto Film Festival.
Article continues below advertisement
"Kristen and James bumped into each other at the Intercontinental Hotel in Toronto during the film festival and were engaged in conversation for 20 minutes," an onlooker revealed.
"There was a lot of flirting and Kristen was overjoyed by the attention she was getting from James, who was gushing over her, saying what a great actress he thinks she is and was full of praise for her latest movie, On the Road.
"She seemed at ease in his company, and he was certainly making her laugh. She was wearing a huge grin on her face.
"At the end of their chance meeting, James took Kristen's number and asked her out for dinner.
"Kristen initially said no, but is mulling over the idea. She knows she has to move on now following her break up with Rob.
"James definitely wants to see Kristen again, and there's nothing better for a heartbroken girl than to be admired by a handsome man," the source said.
Article continues below advertisement
A new man in her life may stop Kristen continually raiding Robert's leftover closet at every given opportunity!
Last Sunday, she was pictured leaving Toronto's Pearson International Airport with her ex's Baltimore Orioles baseball cap on her head.
And when she arrived at the film festival on Wednesday, Kristen was wearing his 'Irie' T-shirt. At this rate Robert's going to need a new wardrobe!
RELATED STORIES: