Exclusive
Monica Lewinsky Writing $12 Million Tell-All, Including Secret Letters To Bill Clinton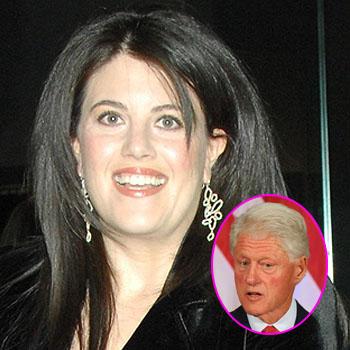 Monica Lewinsky is set to reveal shocking new secrets about her affair with ex-President Bill Clinton in a bombshell $12 million tell-all memoir, in which she's going to share intimate never-before-heard details about their relationship.
The former White House intern, 39, desperately wants revenge on the powerful politician who sullied her name, insiders exclusively told the National Enquirer, and she has several publishers eager to get their hands on her book.
Article continues below advertisement
"Monica has tried to move forward, but the nightmare of her affair with Bill still haunts her," a close pal told The ENQUIRER. "She's facing 40 without a man in her life, and seething about the way her reputation was destroyed as the whole world watched."
For the first time ever, Mon­ica will also release steamy love letters she penned to the Cheater-in-Chief.
"Monica wrote the letters on her computer," said another source. "In them, she opened her heart about her love for Bill and how much happier she could make him than Hillary. Some of what she wrote was so raw that she never sent them."
Friends fear the blockbuster expose could finally torpedo the high-profile Clinton marriage, wreck Hillary's future political career and trigger a potentially fatal health crisis for the 66-year-old politician.
"With Bill's history of heart problems, her book could be more than just revenge, it could kill him!"
Monica has struggled to find employment over the years, and that's when she started to develop the tell-all book.
Article continues below advertisement
"After testing the waters through publishing contacts, Monica learned she could get $12 million if she recount­ed every juicy detail of the scandal," the source tells the Enquirer.
An immunity deal she made for giving grand jury testimony against Clinton prevented Monica from exposing intimate details of their affair in Andrew Morton's book bombshell expose that was penned in 1998.
"But that agreement expired in 2001, and when Bill published his autobiography 'My Life' three years later, Monica felt betrayed by him all over again," said the source.
While Clinton skated through the scandal relatively scot-free, his health has suffered. He underwent emergency heart-bypass surgery in September 2004 and surgeons inserted two stents into a clogged heart artery in February 2010.
"For years, Monica tried to protect Bill out of a misplaced sense of loyalty," said the source. "But she no longer feels that way, and her memoir is his worst nightmare."
For more details about Monica's sleazy sex trysts with Clinton, revelations about his hunger for threesomes and orgies and the way the former president hurled one degrading insult after another at his wife Hillary pick up the new issue of the National Enquirer on newsstands Thursday.