Exclusive
Spice Girls Were Going To Perform Without Victoria Beckham At Olympic Closing Ceremony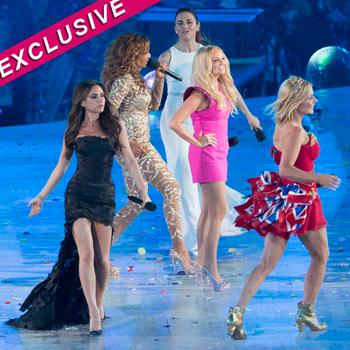 Article continues below advertisement
"Danny Boyle (producer of the opening & closing ceremony for the London Olympics) had been trying to get the Spice Girls to perform for over a year and a half," a source close to the band tells RadarOnline.com. "He felt that there was no way London could host the Olympics and not have the Spice Girls perform. They hold the record for the most popular all female band in history and are a really important part of the British music scene.
"The lone holdout during the entire negotiation process leading up to the Games had been Victoria. Victoria said her schedule just wouldn't permit it because of commitments with her fashion line and her duties of being a mother, including daughter, Harper, who just turned one year old. The ladies decided they would perform without Victoria because they felt it was a once in a lifetime opportunity to play for a worldwide audience at the Olympics. Once Victoria learned of their plans she was able to juggle her schedule to allow her to perform too."
Article continues below advertisement
The Spice Girls wowed viewers of the closing ceremony and the ladies performed a medley of their 90's hits, and all looked fantastic in their outfits that represented their persona with the band. Posh Spice wore a revealing black gown that showed off her gorgeous gams, and Mel B, Scary Spice wore a form fitting glitter bodysuit, which complimented her toned physique.
Mrs. David Beckham said on Twitter Sunday night, after their performance: "We did it!! I love u girls so much!!!!! xxx vb."
"Victoria obviously recognized that if she didn't join the band for the closing ceremony it would look really bad. Victoria is very grateful for the platform the band has given her, but she just likes to create distance from that time in her life because she wants to be taken seriously as a fashion designer. Ultimately though, the band came together and did a hell of a job in their performance. Victoria was gushing afterwards that she was so glad she had decided to do it," the insider says.