Lauryn Hill Refuses To Do Interview With Oprah Winfrey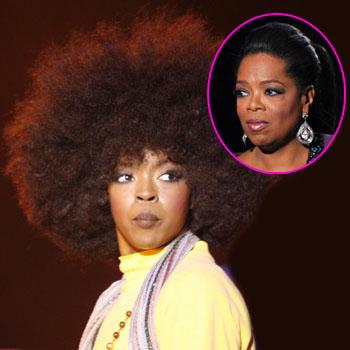 Article continues below advertisement
But the former Fugees singer, who faces imprisonment after failing to file federal taxes over three years, refuses to give Oprah a tell-all.
The queen of chat revealed the news herself on Twitter. One of her followers tweeted: "@Oprah GET LAURYN HILL ON YOUR SHOW ASAP!!!!!!"
Oprah quickly responded: "@Shawtiejay tried. She said no."
Hill is in hot water after pleading guilty to not paying federal taxes on the $1.8 million she earned between 2005 and 2007. The mother-of-six faces up to three years in prison.
It's the latest in a series of controversies for the singer who won five Grammys for her critically acclaimed album The Miseducation of Lauryn Hill. Over the years she has been dogged by rumors of mental instability.
Last summer she revealed that Rohan Marley – the father of her first five children – is not the dad of her sixth child. At the time there was no public confirmation that the couple had split.
Article continues below advertisement
Rihanna Surprises Oprah: 'I Thought She'd Be A Bad-Ass'