Exclusive
Lauryn Hill Denies Rohan Marley Is Father Of 6th Child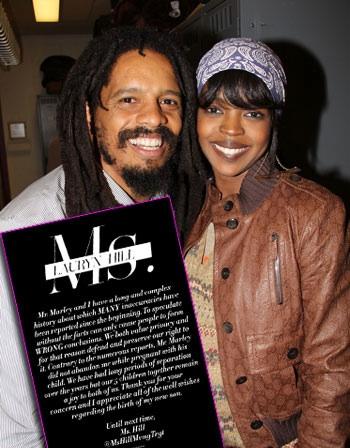 - Radar Senior Reporter
Singer Lauryn Hill gave birth to her sixth child on Saturday and while the baby daddy remains a secret, she took to Twitter to deny that her long time partner, Rohan Marley, abandoned her while she was pregnant with his child.
The former Fugees singer, 36, has five children with Bob Marley's son, but she was keen to set the record straight that her longtime love is NOT the father of her newest baby boy.
Article continues below advertisement
"Mr. Marley and I have a long and complex history about which MANY inaccuracies have been reported since the beginning. To speculate without the facts can only cause people to form the WRONG conclusions. We both value privacy and for that reason defend and preserve our right to it.
"Contrary to the numerous reports, Mr. Marley did not abandon me while pregnant with his child. We have had long periods of separation over the years but our five children together remain a joy to both of us. Thank you for your concern and I appreciate all of the well wishes regarding the birth of my new son."