Rihanna On Chris Brown: 'I Do Miss Him'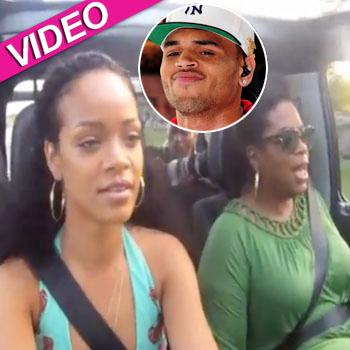 By Amber Goodhand - RadarOnline.com News Editor
It's been three years since Chris Brown physically assaulted Rihanna, and in a preview of Oprah's candid interview with the Umbrella singer obtained by RadarOnline.com, she admits to still missing him.
"I'm reminded by a lot of things. A lot of good memories we had," Rihanna told Oprah in the Next Chapter special.
"By the slightest things; hotel rooms, tour venues, any little thing, music, songs, and I do miss him at times."
Article continues below advertisement
In the teaser, Oprah reveals, "She talks a lot, a lot, a lot about you know who, Mr. Chris Brown."
Chris received five years of probation, community labor and one year of domestic-violence counseling in connection with the vicious beating. His career initially stumbled, but has recovered since the incident and he collected a Grammy this year.
After the split with Chris, Rihanna publicly dated Los Angeles Dodgers star Matt Kemp and is reportedly on and off with rapper Drake — but tells Oprah exactly what she's looking for in a man.
"I know what I want… I know if I had it my way I want a man that loves me, cherishes me, values me, but they have to know my value in order to value me. They have to know my worth and they can only know my worth if I know my worth. I want them to respect me," Rihanna said.
"But I want fun times! I want fun, fun times. I want laughs. I want laughs more than everything. Ihave everything else, all I want is a partner in crime to enjoy it with me."
Check out Rihanna's full interview on Oprah's Next Chapter Sunday, August 19 on OWN.